Carl Hobert's Class Grooms Global Citizens
Goal is to bring preventive diplomacy to areas of conflict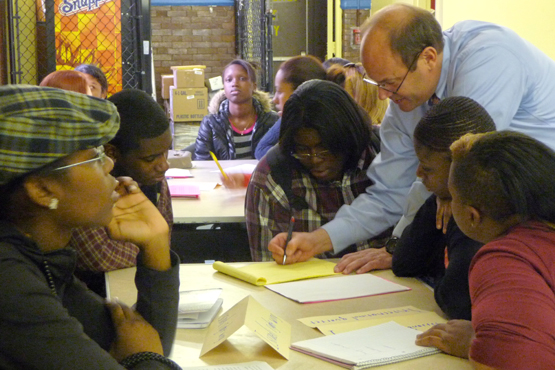 Carl Hobert's students carry the weight of the world on their shoulders, and they appear to have a great time doing it.
Lively apprentices of what Hobert, a visiting scholar and School of Education lecturer, calls preventive diplomacy, they are combining a rigorous, nuanced understanding of current events with the guiding principles of conflict resolution. Like countless dogged young optimists, these students, most majoring in international relations or education, believe a peaceful future is within reach. Hobert is the founder and executive director of the nonprofit Axis of Hope Center for International Conflict Management and Prevention, and under its umbrella, the students' focus to get to that future is not governments but children and teens.
On a Wednesday evening near semester's end, Hobert's Educating Global Citizens class assembles in the plush embrace of SED's Ryan Library. Despite the dozen semester-weary students with overstuffed backpacks, the proceedings bear little resemblance to academics as usual; Hobert calmly instructs the group to line up in alphabetical order of their hometowns, allotting 25 seconds for the task.
"In complete silence, please," he insists.
A din ensues despite his charge as students scramble to arrange themselves to the beat of Hobert's countdown. Next it's an A-to-Z lineup according to first language learned: English. English. English. Gujarati. Romanian. Russian. The students are not exactly quiet, but the giggles are softer. Finally, they arrange themselves by favorite city. And they manage it, Brussels to Prague, with nary a peep. After what Hobert calls an "ice-breaking" circular handshake, Outward Bound–style, they sit, these global citizen hopefuls, and the preventive diplomacy drill begins.
The exercises are fun, but far from shallow. The proceedings serve to emphasize differences and commonalities at the same time — the nuts and bolts of diplomacy and conciliation. "They help me see which students are natural leaders and which are followers," Hobert says as the students coagulate into groups. "I give the leaders credit, but I want them to be able to follow, too — I call it followership."
Hobert, an unapologetically cockeyed optimist, believes young children or disgruntled teens can be taught to seek peaceful solutions even if the process requires restraint, thoughtfulness, and foresight. He has crisscrossed the planet, global citizen trainees in tow, to apply his theories of team building, principled negotiation, and "getting to yes" in messy, real-life environments. Whether in the former killing fields of Kigali, Rwanda, the bitterly divided fringes of Jerusalem, or the gang-infested streets of American inner cities, Hobert's work is with the young — sometimes as young as kindergartners. The father of three has said that if he were a politician, his slogan would be, "It's the children, stupid."
Hobert's homework assignments focus students outward, locally to globally. They need to know in scholarly detail what is happening right now in every conflict zone from Somalia to Honduras by close daily readings of the Boston Globe, the New York Times, the International Herald Tribune, and Foreign Affairs. Even the most alert, habitual current events addict might be foiled by his weekly quizzes: What nation signed an agreement with a U.S. solar developer for a photovoltaic farm in the desert? What countries rank first, second, and third in global weapons sales? Who is the U.S. special envoy to Korea? The speaker of Iraq's Parliament?
As students cultivate a global awareness, they engage in case studies that zoom in on conflicts, designed to illuminate the cornerstones of Hobert's preventive diplomacy: the power of listening, mutual respect, negotiation, and compromise. And then, with the blessing of Hardin Coleman, dean of SED, Hobert and his students take their act on the road — to public and private high schools in the United States and to conflict zones abroad.
Most recently at the Harlem Renaissance High School in New York City, Hobert's protégés guide school groups through the case study workshops refined in their BU class. Hobert has observed time and again that even the most insolent teenager's empathy is stirred by a conflict far from home. Then the lessons are applied, and students in Harlem and elsewhere make impressive strides toward negotiating their differences in the classroom and on the streets.
As the University semester proceeds, Hobert says, he sees students of all ethnicities and levels of privilege evolve. They grow both more confident and more skeptical, he says, less impressionable, more resilient. They wriggle free of fixed notions and become comfortable meeting others halfway. He calls them his "humble chameleons."
"Carl has shown me, very clearly, that there are many people who believe in an optimistic future for the world," says Stephanie Hagen (CAS'11), an international relations major and Axis of Hope assistant. "Call me naïve, but at 20 I think I am too young to be cynical, and if I am lucky enough to one day be as passionate about helping others as Carl is, I never will be."
The course's geopolitical case studies are, as a popular TV show puts it, "ripped from the headlines." In one November class, for example, students take on the China-Tibet conflict, considering a study by a group of former students (including Hagen), titled "The Roof Is on Fire." Handouts include a glossary, news reports, and a list of players in the drama, including ethnic Tibetans, the Chinese, the U.S. and Indian governments, the Chinese in Tibet, and the Dalai Lama.
Unlike in real-life diplomacy, with its bureaucratic delays and sovereign nitpicking, students spring to work within seconds, groups convening to state concerns, then merging and deliberating in "diplomatic pods" until a proverbial road map for peace emerges. Hobert smiles with paternal pride as a student role-playing an ethnic Tibetan challenges the Chinese government to allow human rights monitors into Tibet. He nods in agreement as a representative of the U.S. government defends President Obama's decision not to meet with the Dalai Lama. He is satisfied that after months of drilling, students can cite the finer points of political, historic, and economic realities.
Hobert has invited famed linguist and social activist Noam Chomsky, a friend and longtime inspiration, to the University to talk about the Middle East conflict; he will speak at Jacob Sleeper Auditorium on December 8, beginning at 6 p.m. Although antiwar, Chomsky is loudly and resolutely pro-Palestinian and rarely a role model for diplomacy, so some students might wonder what their professor is up to. Hobert admits he expects Chomsky to light a fire under these fledgling global citizens.
"He'll speak for just a half hour," he says. "The rest will be a Q and A." If his students have learned as much as Hobert hopes, they'll challenge Chomsky at every turn.
Noam Chomsky will speak on Obama, the Middle East, and the Prospects for Peace at the College of General Studies Jacob Sleeper Auditorium, 871 Commonwealth Ave., on Tuesday, December 8, at 6 p.m. The talk is free and open to the public.
Susan Seligson can be reached at sueselig@bu.edu.