Fighting Words
The Poetry of War by James Anderson Winn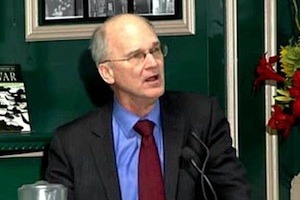 Click here to watch James Anderson Winn on BUniverse.
James Anderson Winn, a BU professor of English, started working on The Poetry of Warduring a sabbatical in 2001. He'd written an introduction and part ofthe first chapter when terrorists crashed planes into the World TradeCenter, the Pentagon, and a field in Pennsylvania. At that moment, Winnsays, "the book suddenly became a lot more timely."
Rather thanwrite a chronological history of poets reflecting on wars through theages, Winn divided his book up into poems from various historicalconflicts that touched on broad themes such as honor, shame, empire,comradeship, and liberty. In this reading, he discusses three poemsthat trace the changing motivations for battle, from the honor reveredby Richard Lovelace in his 1649 poem "To Lucasta" to the idea of fighting for liberty touched on by Hervey Allen in poetry about World War I to killing linked with shame in the poetry Philip Appleman wrote during the Vietnam War.
March 4, 2008, 7 p.m.
Barnes & Noble at Boston University
About the Speaker:
Pulitzer Prize nominee James Anderson Winn is a BU College of Arts and Sciencesprofessor of English. He graduated summa cum laude from PrincetonUniversity and earned a Ph.D. at Yale University, where he wrote hisdissertation under Maynard Mack.
Prior to joining the BUfaculty, Winn taught at Yale and at the University of Michigan, wherehe was the founding director of the Institute for the Humanities,one of the leading interdisciplinary institutes in the United States.At BU, he was chairman of the English department from 1998 to 2007.
In addition to The Poetry of War, Winn is the author of The Pale of Words: Reflections on the Humanities and Performance, among other works. His interests include Restoration and 18th-century English literature, and he is working on a new book, Culture and Politics in the Reign of Queen Anne.Winn is also an accomplished musician, having studied the flute withFrancis Fuge of the Louisville Orchestra and Samuel Baron of the BachAria Group. He has won concerto competitions sponsored by theLouisville Orchestra, the Princeton University Orchestra, and the YaleSymphony.