A Day at the Beach
You don't have to travel far to feel the sand between your toes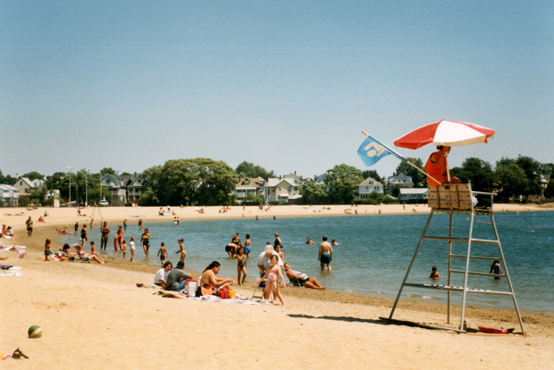 Tired of reading about all those state politicians who take off to their cottages on the Cape every weekend? Sick of being left behind to swelter in the city heat? Fret not. There are more than a dozen beaches nearby, and if you live near a subway station or a bus stop, you, too, can spend a day at the shore.
Crane Beach

The white sand of Crane Beach in Ipswich stretches for miles and is a summer haven for both people and wildlife. The more than 1,200 acres of beachfront, dunes, and maritime forest were once part of the early 20th-century summer estate of Chicago industrialist Richard T. Crane, Jr.
Today, they're managed by the Trustees of Reservations, a land conservation group in Massachusetts that tries to balance recreational use of the beach with habitat protection for the various plants and animals, most notably the piping plover, a bird listed as threatened by the U.S. Fish and Wildlife Service.
Beach-goers relax and swim under the watchful eye of lifeguards and ranger patrols in all-terrain vehicles. Crane Beach has bathhouses (with toilets and changing areas), outdoor showers, drinking water fountains, and a beachside store. This year's annual sand sculpture contest will be held on August 9, from 8 a.m. to 4 p.m.
There are also more than five miles of walking trails within the dunes. But the fenced-in piping plover and tern nesting sites are strictly off limits. Likewise, beachgoers are asked not to remove organic debris that washes up on the beach, because shorebirds feed and seek cover in the vegetation.
Parking for Crane Beach is a pain if you're not an Ipswich resident with a beach sticker, so you're better off taking the Newburyport Commuter Rail Line to the town of Ipswich and then hopping on a shuttle that will take you from the train station to the beach, where you'll pay a $2 admission fee.
Singing Beach

Singing Beach in the North Shore town of Manchester-by-the-Sea is about half a mile from the Commuter Rail stop on the Rockport Line. Walk-on admission is $5, and children under 12 are admitted free.
Along the path to the beach is a highly recommended stop for refreshments: Captain Dusty's ice cream shop. Captain Dusty was a popular Manchester resident, who sold lobsters from this location for many years. These days, the owners sell huge portions of homemade ice cream.
Singing Beach is book-ended by a cliff and a hill. Wind passing over the dunes here sometimes triggers a high-frequency sound, giving the beach its name. It's a great swimming beach, with bathhouses and lifeguards. But the scene is low-key and relaxing — lots of beach walkers, shell collectors, and surf watchers. The town, which manages the beach, wants to keep it that way and prohibits rubber rafts, windsurfers, kayaks, fires, alcohol, dogs, climbing on or jumping off rocks, and, in case you were tempted, nudity.
Carson Beach
One of the largest and most accessible of the Boston Harbor beaches is South Boston's Carson Beach, just a few blocks from the JFK-UMass stop on the Red Line.
Carson Beach is free and open to the public, and it offers some beautiful views as well as picnic areas, public restrooms, exhibit space, first aid and lifeguard stations, and outdoor courtyards for recreation.
The beaches along Boston Harbor got a bad rap from years of combined sewage and storm-water runoff, which polluted the water to dangerous levels. But over the past couple of decades, after a landmark ruling in federal court, the Massachusetts Water Resources Authority has led a multibillion-dollar effort to clean up the harbor and fix the city's sewer and storm-water system to the point that the beaches are now cleared for swimming 90 percent of the time.
Water quality is tested frequently, especially after a heavy rain, which is typically what triggers the occasional "red flag" swimming restriction. Such warnings are posted on the Massachusetts Department of Public Health Web site.
Carson Beach has been spruced up in other ways, with a refurbished Harbor Walk that leads south a couple of miles to the John F. Kennedy Presidential Library and Museum and a couple of miles north to Castle Island. The 22-acre urban park features Fort Independence, a pentagonal, five-bastioned granite fort built between 1834 and 1851 (where Edgar Allan Poe was once stationed).
Revere Beach

The oldest public beach in America, Revere Beach was known in its heyday as the Coney Island of New England. During the first half of the 20th century, Revere was an urban seaside family resort, boasting amusement park rides, arcades, and dance halls. Although the Ferris wheel, roller coaster, and carousel rides are long gone — the Blizzard of 1978 washed away the park and destroyed most of the sea wall — Revere remains a popular destination for Bostonians seeking a fast ocean getaway.
Getting to Revere Beach is easy. Simply hop on the Blue Line and take it to the Revere or Wonderland stop. Be forewarned, though: Revere is the anti-Vineyard. It's a youthful beach, popular with teenagers and 20-somethings who blare their radios while cruising the shore for dates, and its close proximity to the airport means there's always noise from incoming jets. The sand is often littered with garbage, and a peculiar odor occasionally wafts in with the tide.
Revere hosts the annual New England Sand Sculpting Festival, which brings in the country's most talented sand sculptors — and 350 tons of imported sand — for a week of creative fun in the sun. This year, the festival will take place July 14 through 20. For more information, click here.
When you get hungry, be sure to stop by Kelly's Roast Beef. A Revere institution since 1951, Kelly's is famous for its thinly sliced roast beef, served warm and rare on a grilled bun with barbecue sauce, as familiar north of Boston as fried clams and lobster rolls are all along the New England coast.
Boston Harbor Islands

The Boston Harbor Islands have some of the area's most secluded beaches. While only a 45-minute ferry ride from Long Wharf, the islands are a world away from the hustle and bustle of the city. Visitors can swim, fish, hike, and camp in the park's network of more than 30 islands.
The beaches are more rocky than sandy, but they are beautiful, nonetheless. The 62-acre Lovells Island has picnic areas, an unsupervised swimming beach, trails that pass by dunes and woods, and the remains of Fort Standish. Primitive camping is also available.
Boats leave Boston's Long Wharf to Georges Island and Spectacle Island in the summer on the hour, from 9 a.m. to 5 p.m., on weekdays, and on the hour and the half-hour until 5:30 p.m. on weekends. Tickets are $14. Water taxi trips are available from Georges Island to other islands for $3. For more information, click here. To get to Long Wharf, take the Blue Line to the Aquarium stop.
To read BU Today's article about the Boston Harbor Islands, click here.
BU Beach

Okay, so there's no ocean or sand — there aren't even any annoying seagulls. But BU Beach, a small stretch of grassy lawn behind Marsh Plaza and the College of Arts and Sciences, overlooks the Charles River and offers one of the campus' few green spaces. According to campus lore, the expanse got its name because the cars that speed along Storrow Drive sound like waves crashing on an open sea. While the description may be a bit of a stretch, the BU Beach is a popular place for students to study, sunbathe, and toss a Frisbee. Photo by Kalman Zabarsky
Chris Berdik can be reached at cberdik@bu.edu. Vicky Waltz can be reached at vwaltz@bu.edu.