Leading the WBUR News Pack
BU People: News director John Davidow has been helping WBUR win awards aplenty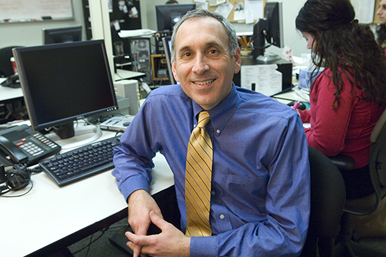 The chuckling Click and Clack are hosting Car Talk in a booth just steps from his desk, but John Davidow stays focused on the news.
WBUR, the Boston University–owned National Public Radio station, has been the local leader in news radio for years and has only improved since the longtime Boston broadcaster became news director and managing editor in 2003. Every year since, the Associated Press has named WBUR the region's News Station of the Year. In 2006, the station also won the New England Radio-Television News Directors Association's Edward R. Murrow Award for Overall Excellence.
"It's great to get that kind of recognition from our peers," Davidow says.
A former social studies teacher, Davidow began his broadcasting career in television at Channel 5 (ABC), starting as a consumer reporter in 1981 and becoming executive producer by 1991. In that role, he led the station's 11 p.m. newscast to the market's number-one spot.
Within seven years, WBZ-TV (CBS) recruited Davidow to revamp its newsroom as assistant news director. There he directed coverage of the September 11, 2001, terrorist attacks, the 1999 Worcester warehouse blaze that killed six firefighters, and other big news stories before making the switch to radio at WBUR.
Now he is responsible for all local news content in programs such as NPR's Morning Edition and All Things Considered and hourly newscasts, as well as special coverage of issues like the Big Dig tunnel collapse and the first Red Sox World Championship in 86 years. And he has boosted the size of the news staff, adding three full-time reporters to cover exclusively medicine and science, arts and culture, and business and technology.
"Boston is a great news town," he says. "I've been here 25 years, and it's a privilege to be working at WBUR, where news is still highly valued and we're given the time to tell a story. We're not a sound-bite-driven, picture-driven medium; we allow the stories to breathe and to be told well, with good writing, good sound, and good production values. I think that's what we contribute to the dialogue of the city."
Indeed, WBUR was the exclusive radio outlet for last fall's Massachusetts gubernatorial debates. As Davidow points out, "We were onto the Deval Patrick campaign ahead of other organizations. He announced on our air his intentions of running."
At the time, Davidow and his wife, who have a daughter at Newton North High School and another who runs the nonprofit Room to Grow, were hosting an exchange student from Beijing. Davidow brought her to the debates, which she'd been assigned to cover for a journalism class. "It's great for a kid who's grown up in China to see debates with politicians who can actually speak their mind," Davidow says. "Her awe and wonder about the process were really fun to watch."
Patrick Kennedy can be reached at plk@bu.edu.