WBUR presents Geoffrey Hill
A celebration of the career of the renowned poet, author, and teacher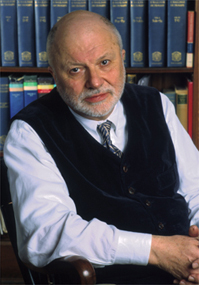 WBUR, Boston University's award-winning National Public Radio station, broadcasts "A Life in Poetry: An Evening with Geoffrey Hill," a celebration of the career of the renowned poet, author, and teacher.
The event was sponsored by the Luce Program in Scripture and Literary Arts, the University Professors Program, and the Hillel at Boston University.
Speakers included Director of the Luce Program In Scripture And Literary Arts, Peter Hawkins; Boston University President Emeritus, Jon Westling; Professor Christopher Ricks; Professor James Schmidt; and, of course, Professor Geoffrey Hill.
To listen to the broadcast, click here.