Brown kicks off inaugural week with Ballyhoo
President thanks students for gift of 41,000 hours of community service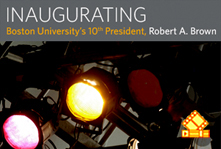 Students came to the Track and Tennis Center on Saturday afternoon prepared to answer the question: "Do You Ballyhoo?"
The Ballyhoo with Brown, a BU Central event created for University President Robert Brown's upcoming inauguration, featured four bands, spoken-word poetry, and comedy and dance performances, as well as all the junk food a college student could want.
"The thought was to have a festival atmosphere," said Allen Ward, the assistant dean of students. "When the University welcomes a new president, part of the celebration is to have events that connect with different constituencies, particularly on a campus like this. Dr. Brown wanted to have an event exclusively for students, and it was his idea to have an event that students would want."
Headlined by musician Matt Nathanson, the Ballyhoo included performances by the bands Brakes, Youth Group, and Little Brother. The Edge, a student dance ensemble, gave two performances, and there were readings by the slam-poetry group Speak For Yourself — which ranged from an appreciation of baseball to an ode to the actor Freddie Prinze, Jr. Brown and his wife, Beverly, mingled with students and took pictures with faculty and guests.
"We needed a picture with President Brown and Dean [of Students Kenneth] Elmore for our Warren Towers scavenger hunt," said Matt Breuer (CAS'08), who stopped by with members of the Warren Towers Residence Hall Association. "He was really helpful, and very excited."
Jon Marker (CAS'07), the Student Union president, introduced Brown as "one of the newest Terriers" and said Brown's "enthusiasm for this University gives me incredible hope for the future of our BU."
Brown thanked the student body for the 41,000 hours of community service they completed as an inaugural gift and encouraged students to think about how they could continue to build community and take pride in the University.
"I'll end with a saying that my eldest son, who's 24, taught me many years ago," he said. "Party hardy."