BU benefactor began career as fearless Army pilot
Arthur G. B. Metcalf began his career conducting daredevil aviation tests for the Army.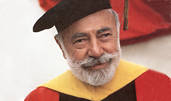 The late Arthur G. B. Metcalf (SED'35, Hon.'74), a former BU professor, longtime chairman of the board of trustees, and founder of BU's department of aeronautical engineering, in his early twenties tested the limits of new Army aircraft "through all six degrees of freedom in a sequence of climbs, lops, dives, turns, stalls, rolls and spins," writes BU President Emeritus John Silber in a 1997 Bostonia article about his longtime friend and colleague. "If the plane held together, he landed, certified of its airworthiness, and collected $100."
Metcalf went on to become an expert aeronautical engineer, as well as a "painter, author, horseman, yachtsman, mathematician, inventor, and industrialist," writes Silber. In 1973, Metcalf also endowed the Metcalf Cup and Prize and Awards, the University's highest honors bestowed for excellence in teaching.
The deadline to submit nominations for the awards this academic year is Tuesday, October 18. Students, alumni, and faculty are invited to recommend candidates. To learn more, visit the Office of the Provost's Web site.