Breaking News!
Supporting the Classics is not a sprint — it's a Marathon!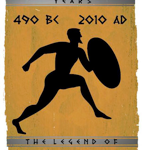 Arion Development Chairman to run the Original Marathon this fall in Athens in celebration of its 2,500th anniversary.
October 31, 2010 marks the 2,500th anniversary celebration of the world's very first marathon. In 490 BC, when the mighty Persian army was defeated in battle near the small town of Marathon, near the coast of Greece, legend has it that a Greek youth named Pheidippides was sent to Athens to bring over the news of the victory. Running 42 km from the battlefield to the capital as fast as he could, he announced his joyous message—"We have won!"—and died.
The Classic Marathon in Athens this fall is the perfect compliment to Arion's fundraising efforts. Our goal is to raise $100 for each of those 2,500 years. This ambitious campaign would keep Arion publishing. To aid in the effort, first-time marathoner and Arion Development Chair, Stamatis Astra, will run on behalf of Arion. By supporting our own "Pheidippides," we can keep Arion alive—and Stamatis!
We need your support, donate today!
After twenty years of publishing, Arion is not ready to give up. Please support Stamatis' determination to finish the race
with a donation. You will be supporting Arion, supporting our mission to promote classical studies and to forge a link between the classics and the living culture of today.
Arion is one of the most distinguished classics journals, published by Boston University since 1990, and offers readers the best in contemporary criticism, translation of the great classics, and original writing. We are committed to genuine pluralism of outlook and intellectual daring in the humanities and the classics.
Please support Arion and Stamatis as he prepares for this great race, a symbol of the values we all share, values which Arion stands for now as it has for the last twenty years. And like Stamatis, Arion looks forward to the challenges ahead!
Arion
Boston University
621 Commonwealth Avenue
Boston, MA 02215
Thank you for donating to keep Arion in print and on line!
Support Arion, support the classics—Your gift is tax deductible!