Undergraduate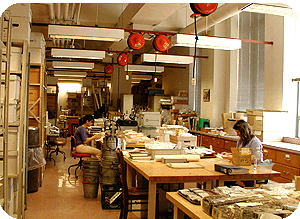 Introduction
Boston University is a leading center for the study of archaeology and the only university in the United States with a separate, fully constituted, Department of Archaeology. We offer students a splendid opportunity to work closely with faculty in field study, in the laboratory, and in the classroom, developing professional expertise on an undergraduate level. While Boston University is an enormous institution with vast resources, the Department of Archaeology is a compact entity in which undergraduate majors, archaeology graduate students, and faculty interact with each other, formally and informally, on a daily basis.
Resources in Archaeology at Boston University
The administrative offices of the Archaeological Institute of America and the American Schools of Oriental Research sponsor centers and projects all over the world, the International Center for East Asian Archaeology, sponsor centers and projects in East Asia, Central Asia, and Southeast Asia. The centers are located on campus. A wide variety of professional journals and publications, including Geoarchaeology, the Journal of Field Archaeology, and the Journal of East Asian Archaeology, are edited by members of the faculty. A major asset of our program is the city of Boston itself. With its many museums of art, science, anthropology, and other specialties; its many major and specialized libraries, and with its vast wealth of historical sites and landmarks, the city and its environs expose students to sophisticated and exciting work in many fields. Various consortia make it possible for students to take advantage of the collective resources of numerous institutions of higher learning in the metropolitan area.
The Boston University Archaeology Society, is organized by undergraduate concentrators and offers many opportunities for students to socialize, meet visiting scholars, and learn about fieldwork opportunities. The club has regular meetings and is open to all students.
Career Opportunities
An undergraduate degree in archaeology is preparation for continued study or professional development in almost any field. If you are interested in a career in archaeology itself, either in research, higher education, museum work, or cultural resource management, you will need an advanced degree. Your undergraduate degree from Boston University will put you in a competitive position to continue in the field. If you decide to pursue another career, the broad range of studies you will cover as an undergraduate represents excellent preparation for a career in law, business, medicine, education, or most other professions. Archaeology fascinates almost everyone, but only a few individuals are trained in it. Archaeologists attract considerable interest from employers in areas like publishing, government service, management, and foreign service who are looking for diversity in skills and breadth of knowledge in their employees. Your strength will lie in your broad training in the liberal arts.
The Structural Requirements of the Undergraduate Program
An undergraduate major in archaeology requires study in a broad set of disciplines. Aside from the required curriculum in liberal arts and courses in the Department of Archaeology, students are encouraged to have a minor in a related field and must take courses in cultural anthropology, languages, and laboratory sciences.
Within the Department, only three specific courses are required for the major: AR 101 Introduction to Archaeology, AR 307 Archaeological Science, AR 450 Methods and Theory of Archaeology. Other archaeology courses fall into three categories: (1) topical course, which deal with general problems such as the origins of agriculture or the rise of civilization; (1) technical courses, which provide training in specific archaeological methods and technologies such as remote sensing or geoarchaeology; and (3) area courses, which are devoted to specific cultures and regions. As a minimum, Archaeology majors must take one topical, one technical, and three area courses. They may elect to take all of the area courses in one particular field, such as Mesoamerican archaeology or Classical archaeology, or they may take them in diverse areas.
Before graduation students are expected to learn excavation techniques first-hand by participating in a field school. This may be done either by joining one of the projects conducted by the Department itself, or by taking a field school that meets the Department's standards through another institution. Majors exercising the latter option must obtain approval from their advisor in the Department of Archaeology prior to participating in the expedition they have selected at another institution.
In addition, Archaeology majors must take two courses in cultural anthropology and fulfill their science requirement in the College of Arts and Sciences. A statistics course, either CAS MA115 or MA213, also is required.