Undergraduate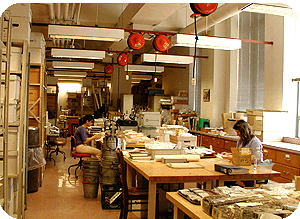 Introduction
Boston University is a leading center for the study of archaeology and the only university in the United States with a separate, fully constituted, Department of Archaeology. We offer students a splendid opportunity to work closely with faculty in field study, in the laboratory, and in the classroom, developing professional expertise on an undergraduate level. While Boston University is an enormous institution with vast resources, the Department of Archaeology is a compact entity in which undergraduate majors, archaeology graduate students, and faculty interact with each other, formally and informally, on a daily basis.
The Structure Requirements of the Undergraduate Program
An undergraduate major in archaeology requires study in a broad set of disciplines. Aside from the required curriculum in liberal arts and courses in the Department of Archaeology, students are encouraged to have a minor in a related field and/or additional training in foreign language and international studies.
Within the Department, three core courses are required for the major: AR 101 Introduction to Archaeology, AR 307 Archaeological Science, AR 450 Methods and Theory of Archaeology. Five other archaeology courses required of majors fall into three categories: (1) topical courses, which deal with general problems such as the origins of agriculture or the rise of civilization; (2) technical courses, which provide training in specific archaeological methods and technologies such as remote sensing or laboratory analyses of archaeological remains; and (3) area courses, which are devoted to specific cultures and regions. As a minimum, Archaeology majors must take one course designated in each of the three categories: topical, technical, and area. They may elect two additional courses in any category, but only one (beyond AR 101) may be at the 100 level.
Archaeology majors are also expected to learn excavation techniques first-hand by participating in a field school. This may be done either by joining one of the projects conducted by the Department itself (registered as CAS AR 503), or by taking a field school that meets the Department's standards through another institution. Majors exercising the latter option must obtain approval from their advisor in the Department of Archaeology prior to participating in the expedition they have selected at another institution, and either petition for AR 503 transfer credit or to have the requirement fulfilled based on field experience without course credit (see directions here).
Finally, Archaeology majors must take two courses in Anthropology (CAS AN 101 and an elective second course), one course in statistics (either CAS MA 115 or MA 213), and compile a major portfolio.