Laboratories
Research and Teaching Laboratory Facilities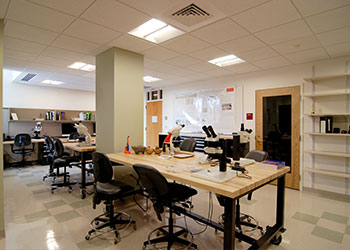 Our department has several laboratories on the second and third floors of the Stone Science and CAS buildings. These facilities are available student use when appropriate; anyone wishing to use the lab space should contact Michael Hamilton, our Laboratory Coordinator.
General rules for laboratory use:
No food or drink should be consumed or stored in any of the laboratories.
No equipment or supplies should be removed from any laboratory without the permission of professor in charge or Michael Hamilton.
No research materials, artifacts, plant remains or the like that are on a table or counter should be disturbed or moved without first contacting the person in charge of that material.
Only authorized personnel are allowed in the laboratories. The labs are not to be used as meeting places, lounges, or lunchrooms.

All foreign soils and plants entering BU Archaeology Labs for study must be transported, handled, analyzed, and disposed of in strict compliance with the USDA: Animal and Plant Health Inspection Services Regulations.
Archaeology and Anthropology Teaching Lab (CAS 335)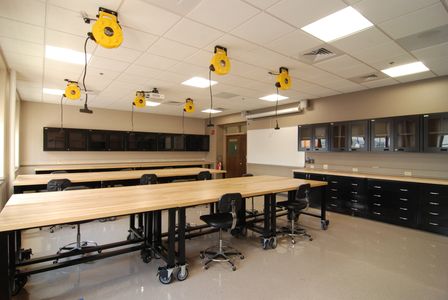 We share this facility with bioanthropologists from the Department of Anthropology; it features lab benches and storage for teaching collections (human and primate osteological specimens, various types of archaeological materials, etc.) used in teaching courses such as AR307, Archaeological Sciences, and AN102, Human Biology, Behavior, and Evolution. It is wi-fi enabled and is equipped with computer projection system, document camera, portable XRF, and several student microscopes.
Archaeology Research Lab (STO 250)

This large, open lab is used chiefly by Professor Beaudry and her historical archaeology students for processing, cataloging, and analyzing collections excavated form historical sites in New England, Spain, the Caribbean, and elsewhere. The lab has sinks and drying racks for washing and drying finds, reference works from artifact identification, ample storage for artifacts, and wi-fi. Attached to this lab is secure storage for equipment used in fieldwork, surveying, and geophysical prospecting. The most valuable feature to this lab is its ample layout space for artifact cross-mending and analysis.

Environmental Archaeology Lab (STO 348)
This lab, directed by Prof. John M. Marston, is devoted to the study of human interactions with past environments, focusing on the analysis of archaeological plant and animal remains from sites worldwide spanning the Paleolithic to the recent historical period. It is well equipped for the microscopic analysis of plant remains (seeds, wood charcoal, phytoliths, starch grains, and pollen), bone and shell, soil and pottery thin sections, and polished ceramic and metal sections, using multiple Leica transmission, incident light, and stereomicroscopes. Its comparative collections of seeds, wood charcoal, and pollen focus on the flora of the Mediterranean, Near East, and Central Asia, while comparative animal skeletons are mainly domestic and wild species of New England. Laboratory members and undergraduate volunteers have already rehoused the inventoried botanical comparative collections and will continue to expand the laboratory collections over the coming year and make them publically available online.
Environmental Archaeology Lab Website
GIS and RS Lab (STO 354)
The Geographic Information Systems (GIS) and Remote Sensing (RS) laboratory in the Department of Archaeology facilitates faculty and graduate and undergraduate research on questions benefitted by geospatial and image analysis approaches. The facilities include five Dell Windows 7 workstations equipped with a variety of commonly used software packages (e.g., ArcGIS, ENVI, Matlab), 24-inch and 44-inch color plotters, black and white and color laser printers, and a conference table. For access to the lab and workstation user privileges, contact
Michael Hamilton
.
Gygaia Projects Lab (STO 349)
Gygaia Projects is a cooperative initiative directed by Prof. Christina Luke and Prof. Chris Roosevelt. It is concerned with scientific field research and education programs in the areas of culture (archaeology and ethnography), environment (paleoenvironment, agriculture, and soil-chemistry), and wise-use management policy that aim to build collaborative partnerships promoting the active production of knowledge and the fostering of long-term US–Turkish cultural interactions. The lab serves as the project office and facilitates these initiatives with GIS workstations and meeting space. For information on its National Science Foundation and National Endowment for the Humanities supported archaeological projects, the primary cultural initiative of Gygaia Projects, see the website of the ongoing
Central Lydia Archaeological Survey (CLAS)
and look soon for the planned website of the Kaymakçı Archaeological Project (KAP).
MicroStratigraphy Lab (STO 251)
In addition to three fume hoods, this laboratory houses the thin-section equipment for ceramic petrography, sedimentology, and micromorphology. These facilities are used by faculty, graduate students pursuing research in these areas. Read more about the
MicroStratigraphy laboratory here
.
Paleoethnobotany Wet Lab (CAS 335A)

An extension of the Environmental Archaeology Lab, these wet lab facilities allow the extraction of starch, phytoliths, pollen, and parasites from artifacts and soil samples. This research suite also features a small research office equipped with microscopes, and ample storage.

Zooarchaeology Lab (CAS230)
This large, open lab is used chiefly by Professor West and her archaeology students for processing, cataloging, and analyzing collections excavated from West's current field projects and excavation on Alaska's Kodiak Island, Chirikof Island, and the Aleutian Islands.
Read more about the Zooarchaeology Lab here
.
Save