Laboratories
Research and Teaching Laboratory Facilities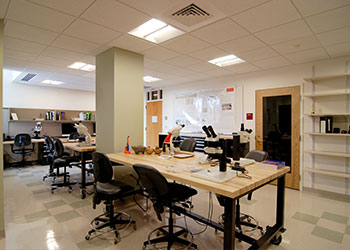 Archaeology has several laboratories on the second and third floors of the Stone Science and CAS buildings. These facilities are available for student use when appropriate; anyone wishing to use a lab space should contact Michael Hamilton, our Laboratory Coordinator.
General rules for laboratory use:
No food or drink should be consumed or stored in any of the laboratories.
No equipment or supplies should be removed from any laboratory without the permission of the professor in charge or Michael Hamilton.
Research materials, artifacts, plant remains or the like that are on a table or counter should not be disturbed or moved without first contacting the person in charge of that material.
Only authorized personnel are allowed in the laboratories. The labs are not to be used as meeting places, lounges, or lunchrooms.

All foreign soils and plants entering BU Archaeology Labs for study must be transported, handled, analyzed, and disposed of in strict compliance with the USDA: Animal and Plant Health Inspection Services Regulations.
Archaeology and Anthropology Teaching Lab (CAS 335)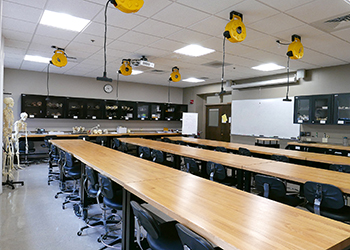 We share this teaching facility with the Department of Anthropology; it features lab benches and storage for teaching collections (human and primate osteological specimens, various types of archaeological materials, etc.) used in teaching courses such as AR307, Archaeological Sciences, and AN102, Human Biology, Behavior, and Evolution. It is wi-fi enabled and is equipped with a computer projection system, document camera, portable XRF, and microscopes for classroom instruction.
Archaeology Research Lab (STO 250)
Primary a lab used for cleaning, identifying, cataloging, and restoring artifacts from excavations at historical sites under the direction of Professor Mary Beaudry, the Archaeology Research Lab features ample sink space for washing artifacts, drying racks, and table space to layout samples for analysis.  Mesoamerican Archaeologist, Professor David Carballo, maintains two workstations in the lab for cataloging artifacts identified from his excavations at Teotihuacan, Mexico.
Environmental Archaeology Lab (STO 348)
Lab Director: Professor John Marston
Lab Supervisor: Kali Wade, Senior Lab Technician
The Environmental Archaeology Lab, directed by Prof. John M. Marston, is devoted to the study of human interactions with past environments, focusing on the analysis of archaeological plant remains from sites worldwide spanning time from the Paleolithic to the recent historical period. It is fully equipped for the microscopic analysis of plant specimens (seeds, wood charcoal, phytoliths, starch grains, and pollen), and soil using multiple Leica transmission, incident light stereomicroscopes. The labs' comparative collections of seeds, wood charcoal, and pollen focus on the flora of the Mediterranean, Near East, and Central Asia.  Senior Lab Technician, Kali Wade, guides laboratory volunteers and undergraduates as they inventory botanical comparative collections and enter their descriptions into a database that will be publicly available on line.
Environmental Archaeology Lab Website

Geospatial Lab (STO 354)
The Geospatial Laboratory is equipped to facilitate faculty, graduate and undergraduate research using geospatial and image analysis techniques in archaeological investigation.  The Lab includes five Dell Windows 7 workstations plus two Dell Alienware Windows 10, 6 core Intel processor computers with Dell 24 Ultrasharp Monitors.  Abundant software for GIS/RS research is available including ArcGIS, ENVI, Matlab, Google Sketch-Up, LiDar Global Mapping, Agisoft Photoscan, and Sketch Fab.  In addition, the lab has a 44-inch HP inkjet color printer, black and white and color laser printers and a Contex 36 inch large Format Sheet Fed scanner.  For access to the lab and workstation user privileges, contact
Michael Hamilton
.
Paleoethnobotany Wet Lab (CAS 335A)
Lab Director: Professor John Marston
Lab Supervisor: Kali Wade, Senior Lab Technician
An extension of the Environmental Archaeology Lab, this wet lab facility is equipped with apparatus to conduct the extraction of starch,  phytoliths, and parasites from archaeological plant and soil samples.  Adjacent to the lab is a small research office with desk, shelf space, and a microscope for Wet Lab Researchers.

Zooarchaeology Lab (CAS230)
Lab Director: Professor Catherine West
This large open lab, under the direction of Professor Catherine West, is used by faculty, undergraduate and graduate students, and visiting researchers for processing, cataloging and analyzing faunal remains excavated from archaeological sites around the world.  Animal bones from the Paleolithic to the historical era are studied and compared to samples from a large and varied correlative collection of animal skeletons housed within the lab.  Read more about the Zooarchaeology Lab here.

Save
Save
Save
Save
Save
Save
Save
Save