| | | |
| --- | --- | --- |
| Cheng, Chieh-fu | GRS'17 | and Ellen Hsieh, 2013 "The Archaeological Study of a Military Dependants Villages of Taiwan," Archaeologies of Mobility and Movement.  Springer, New York. |
| Giron-Abrego, Mario | GRS'18 | "Un Posible Logograma AKAN en el Preclásico Tardío" was recently published (in Spanish) in the European Association of Mayanists journal notes called "WAYEB." |
| Giron-Abrego, Mario | GRS'18 | "A Late Preclassic Distance Number" was recently published on The Precolumbian Art Research Institute (PARI) Journal (Vol. 13, No. 4).  Electronic version: http://www.mesoweb.com/pari/journal/archive/PARI1304.pdf |
| Hodge, Christina J. | 2007, PhD | "A Small Brick Pile for the Indians" The 1655 Harvard Indian College as Setting," 2013, Archaeologies of Mobility and Movement.  Springer, New York. |
| Hutchins, Karen | 2013, PhD | "Movement and Liminality at the Margins: The Wandering Poor in Eighteenth-Century Massachusetts," 2013, Archaeologies of Mobility and Movement.  Springer, New York. |
| Keim, Alexander | GRS'14 | "In the Street: Personal Adornment and Movement in the Urban Landscapes of Boston," 2013, Archaeologies of Mobility and Movement.  Springer, New York. |
| Mauer, Elizabeth | CAS'15 | "What Came Before Knitting: The Origins and Development of Nalbinding." Journal of Undergraduate Anthropology. 2013:3 pg 65-74 |
| Olson, Brandon R. | GRS'15 | and R. A. Placchetti, J. Quartermaine, and A. E. Killebrew, "The Tel Akko Total Archaeology Project (Akko, Israel): Assessing the Suitability of Multi-Scale 3D Field Recording in Archaeology," Journal of Field Archaeology 38.3 (2013): 244-262 |
| Olson, Brandon R. | GRS'15 | "The Pyla-Koutsopetria Archaeological Project: A Preliminary Report on Excavations at Pyla-Vigla, A Fortified Settlement Dating to the Hellenistic Era," Journal of Ancient Egyptian Interconnections 5.3 (2013): 74-82. |
| Olson, Brandon R. | GRS'15 | and Quartermaine, J.,  M. Howland, "Towards a Digital Record: Using Photogrammetry andGeographic Information Systems (GIS) to Draft Accurate Plans of Qazion," Journal of Eastern Mediterranean Archaeology and Heritage Studies 1 (2013): 169-174. |
| Olson, Brandon R. | GRS'15 | "Roman Infantry Helmets and Commemoration among Soldiers," Vulcan 1 (2013): 1-17 |
| Parno, Traivs | 2013, PhD | and Beaudry, Marcy C., eds., 2013, Archaeologies of Mobility and Movement.  Springer, New York. |
| Parno, Travis | 2013, PhD | "Historical Montage: An Approach to Material Aesthetics at Historic House Sites," 2013, Archaeologies of Mobility and Movement.  Springer, New York. |
| Pecoraro, Luke | GRS'14 | and John F. Cherry, Krysta Ryzewski "A Kind of Sacred Place": The Rock-and-Roll Ruins of AIR Studios, Montserrat," 2013, Archaeologies of Mobility and Movement.  Springer, New York. |
| Ryzewski, Krysta | CAS'01 | and John F. Cherry, Luke Pecoraro "A Kind of Sacred Place": The Rock-and-Roll Ruins of AIR Studios, Montserrat," 2013, Archaeologies of Mobility and Movement.  Springer, New York. |
| Shea, John J. | CAS'82 | Stone Tools in the Paleolithic and Neolithic Near East: A Guide, published by Cambridge Univ. Press |
| Tartaron, Thomas F. | 1996, PhD | 2013, Maritime Networks in the Mycenaean World. Cambridge University Press, Cambridge |
UNDER CONTRACT OR REVIEW:
Arcangeli, Myriam [PhD 2012], A Ceramic Culture: Canaris, Cannes, and Other Pottery of Colonial Guadeloupe. University Press of Florida, Gainesville. Under review.
Fortenberry, Brent R. [PhD 2012], Public Space in an Atlantic Capital: Church and State in Early Modern St. George's Bermuda. University Press of Florida, Gainesville. Under review.
Fortenberry, Brent R., Of Cedar and Stone: St. Peter's, Bermuda's Mother Church. Under contract with the National Museum of Bermuda, Somerset.
Hodge, Christina J. [PhD 2007], The Genteel Revolution: Foundations of the Middle Class in Colonial America. Cambridge University Press, Cambridge. Forthcoming 2014.
Beaudry, Mary C., and Karen Bescherer Metheny [PhD 2002], eds., Archaeology of Food: AnEncyclopedia. Rowman & Littlefield, Lanham, MD.
Jared Koller, Boston University Department of Archaeology graduate student was awarded a US State Department sponsored Critical Language Scholarship (CLS) for 2013.  The CLS Program in Indonesia provided an intensive language learning environment.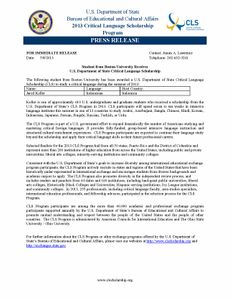 Archaeologist Stephanie Simms was digging at the Escalera al Cielo site in a hilly region of rural Yucatán, Mexico, when she discovered a trove of clay balls the size of plums. There were hundreds of them, buried at the edge of what functioned as a Maya kitchen 1,000 years ago. Read more here
Each year, Boston University has the pleasure of recognizing a handful of talented junior educators emerging as future leaders within their respective fields through the award of Career Development Professorships. Made possible through the generous support of BU Trustees Peter Paul, Stuart Pratt and his wife Elizabeth, Richard Reidy and his wife Minda, and the estate of BU School of Medicine alumnus Ralph Edwards, these professorships are presented to promising junior faculty who have been at BU for no more than two years and have held no prior professorships.
The awards highlight the caliber, potential, and continued vitality of Boston University's diverse faculty and include a three-year, non-renewable stipend designed to support scholarly or creative work, as well as a portion of the recipients' salaries. Nominations are submitted by the academic deans, and awardees are selected by the Office of the Provost. Peter Paul Career Development Professorships are awarded University-wide.
This year's Career Development Professorship recipients have been cited for their extraordinary accomplishments in their areas of study, their passion for the creation and transmission of knowledge, and their efforts to enhance the student experience.
Peter Paul Career Development Professorship
Assistant Professor of Archaeology, College of Arts & Sciences
John Marston studies the long-term sustainability of agriculture and land use, especially in the Mediterranean and western Asia, focusing on how people make decisions about land use within changing economic, social, and environmental settings. He received his doctorate and Master's degrees in Archaeology from UCLA and his Bachelor's degree from Washington University (St. Louis).
BU Today article
This summer, ….. high school students from the Wakefield Summer Archaeology Institute, led by Boston University doctoral candidates Jenny Wildt (GRS'14) and Sara Belkin (GRS'15). The group took part in a two-week archaeological dig at the site, which was settled in 1707.  Read more and see video
Love of Learning Awards
Love of Learning Awards help fund post-baccalaureate studies and/or career development for active Phi Kappa Phi members to include (but not be limited to): Graduate or professional studies, doctoral dissertations, continuing education, career development, travel related to teaching/studies, etc. Recipients of the Fellowship award are not eligible to apply. One hundred forty-seven awards, at $500 each, are distributed each year.
According to the grant abstract, "the study will provide a detailed record of human occupation and environmental change" in the Maya Biosphere Reserve forest of northeastern Guatemala. This lowland area was where the Maya settled in pre-Columbian times. Researchers note that "climate change and environmental degradation have been proposed as the primary causes of extensive demographic decline" in the Maya population on two separate occasions. – See more at: http://www.cnsnews.com/news/article/78k-fed-study-did-climate-change-cause-decline-mayan-civilization
PRESS RELEASE
Francisco Estrada-Belli
(Holmul Archaeological Project/PACUNAM)
Maya temples and tombs give new insights into Maya history
GUATEMALA CITY— A Maya pyramid beautifully decorated with a rare polychrome- painted stucco frieze was unearthed in July 2013 at the site of Holmul, a Classic Maya city in northeastern Peten region of Guatemala.  The find came as archaeologist Francisco Estrada-Belli's team excavated in a tunnel left open by looters.  The stucco relief stands along the exterior of a multi-roomed rectangular building, measuring 8m in length and 2m in height. Much of the building still remains encased under the rubble of a later 20m-high structure. The carving is painted in red, with details in blue, green and yellow.
"This is a unique find. It is a beautiful work of art and it tells us so much about the function and meaning of the building, which was what we were looking for," says Estrada-Belli. The carving depicts human figures in a mythological setting, suggesting these may be deified rulers.  The team had hoped to find clues to the function of this building, since the unearthing of an undisturbed tomb last year.  The burial contained an individual accompanied by 28 ceramic vessels and a wooden funerary mask.
An inscription below the figures tells us that this edifice was commissioned by the ruler of Naranjo, a powerful kingdom to the south of Holmul. In the dedication, king "Ajwosaj Chan K'inich" claims to have restored the local ruling line and patron deities. The images and glyphic text on the frieze also provide information about political actors in the Maya Lowlands well beyond this small kingdom.   "One of the glyphs describes Ajwosaj as 'vassal of the Kanul king,' suggesting a much wider network of influences was being felt at Holmul. When this building was erected, Kanul kings were already on their way to controlling much of the lowlands, except Tikal of course," added Estrada-Belli.
The text places the building in the decade of the 590s, according to Alex Tokovinine, a Harvard University Maya epigrapher associated with the project. who has deciphered the text. "Ajwosaj was one of the greatest rulers of Naranjo. The new inscription provides the first glimpse of the remarkable extent of Ajwosaj's political and religious authority. It also reveals how a new order was literally imprinted on a broader landscape of local gods and ancestors," says Tokovinine.
During the Early Classic period (A.D. 300-550) the Tikal kings had established new dynasties and far-reaching alliances with kingdoms throughout the Maya Lowlands, perhaps thanks to a connection with Mesoamerica's greatest state, Teotihuacan.  Tikal suffered a defeat in the year 562 by the Kanul "Snake" kingdom, which, for the following 180 years, would come to dominate most other Lowland kingdoms.  An inscription at Naranjo indicates that Kanul king K'altuun Hix had overseen the accession of Ajwosaj, as early as the year 545.
The relief depicts three human figures wearing elaborate bird headdresses and jade jewels seated cross-legged over the head of a mountain spirit known as a witz ("mountain"). A cartouche on the headdress contains glyphs identifying each individual by name. The central figure's name is the only readable one: Och Chan Yopaat, meaning "The Storm God enters the sky." Two feathered serpents emerge from the mountain spirit below the main character and form an arch with their bodies. Under each of them is a seated figure of an aged god holding a sign that reads "First tamale." In front of the serpents' mouths are the two additional human figures, also seated on mountain spirit heads.
A band of about 30 incised glyphs adorns the bottom of the frieze. The legible parts mention the actions of Naranjo king Ajwosaj, who put the king's house in order," put Och Chan Yopaat (the central figure in the frieze) in order, and put several local patron gods in order.
The tomb associated with the building was found in a cavity dug into the stairway leading up to the building.  The skeleton of an adult male and his ceramic offering were preserved by large limestone slabs that kept the tomb free of debris.  His incisor and canine teeth has been drilled and filled with jade beads.  The decayed remains of a wooden mask, perhaps originally worn as a pectoral, were found on his chest.  With it were two miniature flower-shaped ear spools.
The number of vessels in the tomb as well as their iconography bore clear references to the nine lords of the underworld as well as to the aged sun god of the underworld.  There were two sets of nine polychrome-painted bowls decorated with the water lily motif, each made by a different artist.  There were also nine red-painted plates and one spouted tripod plate decorated with the image of the god of the underworld emerging from a shell.  Because of the unusually high number of vessels and the jade dental decorations, Estrada-Belli believes this individual may have been a member of the ruling class at Holmul; he had planned this year's excavation to search for more clues about the man and the period in which he had lived.
The team hopes to return to the area in 2014 to continue exploring and to preserve this building. This year's investigation was endorsed by Guatemala's Ministry of Culture with funding from Guatemala's PACUNAM foundation and the U.S.-based Alphawood Foundation with additional support from Boston University, National Geographic Society/Waitt Grants Program, and private donors.
Francisco Estrada-Belli
Francisco Estrada-Belli is an Italian-Guatemalan archaeologist affiliated with Boston University and the American Museum of Natural History, who is currently teaching at Tulane University. He received a Ph.D. degree from Boston University in 1998.  Since 2000 he has directed the Holmul Archaeological Project, a multi-disciplinary investigation of early Maya culture in Guatemala.  He is author of numerous scholarly articles on the Maya including the recent book "The First Maya Civilization. Ritual and Power before the Classic period."  He is a National Geographic explorer, having received 13 research grants from the National Geographic Society, and a Fellow of the Society of Antiquaries of London. He is co-founder of the Maya Archaeology Initiative, a nonprofit for heritage preservation and education in the Maya Biosphere of Guatemala.
Contacts:
Francisco Estrada-Belli
Email: franciscoeb@gmail.com; tel. in Guatemala through Aug. 7: 11-502-44789968 or after Aug. 7 in U.S.: 1-617-230-6633
Alexandre Tokovinine
Email: tokovin@fas.harvard.edu; tel: 1-857-253-1111
National Geographic http://news.nationalgeographic.com/news/2013/08/pictures/130807-maya-frieze-discovered-holmul-guatemala-archaeology/#/new-maya-frieze-found-archaeologist_70150_600x450.jpg
Boston University Department of Archaeology undergraduate major, Elizabeth Mauer, was interested in some ancient textile fragments we have in the Gabel Museum of Archaeology while she was looking for a project to do in Professor Curtis Runnels course CAS AR 206, Ancient Technology.  Her research led to some experimental work, and here is a published version of the paper she did for Professor Runnels class.
Click here for the pdf of the article: http://anthrojournal.binghamton.edu/wp-contentuploads/2013/07/JUA-Issue3.pdf#page=65