Category: Uncategorized
| | | |
| --- | --- | --- |
| Cheng, Chieh-fu | GRS'17 | and Ellen Hsieh, 2013 "The Archaeological Study of a Military Dependants Villages of Taiwan," Archaeologies of Mobility and Movement.  Springer, New York. |
| Giron-Abrego, Mario | GRS'18 | "Un Posible Logograma AKAN en el Preclásico Tardío" was recently published (in Spanish) in the European Association of Mayanists journal notes called "WAYEB." |
| Giron-Abrego, Mario | GRS'18 | "A Late Preclassic Distance Number" was recently published on The Precolumbian Art Research Institute (PARI) Journal (Vol. 13, No. 4).  Electronic version: http://www.mesoweb.com/pari/journal/archive/PARI1304.pdf |
| Hodge, Christina J. | 2007, PhD | "A Small Brick Pile for the Indians" The 1655 Harvard Indian College as Setting," 2013, Archaeologies of Mobility and Movement.  Springer, New York. |
| Hutchins, Karen | 2013, PhD | "Movement and Liminality at the Margins: The Wandering Poor in Eighteenth-Century Massachusetts," 2013, Archaeologies of Mobility and Movement.  Springer, New York. |
| Keim, Alexander | GRS'14 | "In the Street: Personal Adornment and Movement in the Urban Landscapes of Boston," 2013, Archaeologies of Mobility and Movement.  Springer, New York. |
| Mauer, Elizabeth | CAS'15 | "What Came Before Knitting: The Origins and Development of Nalbinding." Journal of Undergraduate Anthropology. 2013:3 pg 65-74 |
| Olson, Brandon R. | GRS'15 | and R. A. Placchetti, J. Quartermaine, and A. E. Killebrew, "The Tel Akko Total Archaeology Project (Akko, Israel): Assessing the Suitability of Multi-Scale 3D Field Recording in Archaeology," Journal of Field Archaeology 38.3 (2013): 244-262 |
| Olson, Brandon R. | GRS'15 | "The Pyla-Koutsopetria Archaeological Project: A Preliminary Report on Excavations at Pyla-Vigla, A Fortified Settlement Dating to the Hellenistic Era," Journal of Ancient Egyptian Interconnections 5.3 (2013): 74-82. |
| Olson, Brandon R. | GRS'15 | and Quartermaine, J.,  M. Howland, "Towards a Digital Record: Using Photogrammetry andGeographic Information Systems (GIS) to Draft Accurate Plans of Qazion," Journal of Eastern Mediterranean Archaeology and Heritage Studies 1 (2013): 169-174. |
| Olson, Brandon R. | GRS'15 | "Roman Infantry Helmets and Commemoration among Soldiers," Vulcan 1 (2013): 1-17 |
| Parno, Traivs | 2013, PhD | and Beaudry, Marcy C., eds., 2013, Archaeologies of Mobility and Movement.  Springer, New York. |
| Parno, Travis | 2013, PhD | "Historical Montage: An Approach to Material Aesthetics at Historic House Sites," 2013, Archaeologies of Mobility and Movement.  Springer, New York. |
| Pecoraro, Luke | GRS'14 | and John F. Cherry, Krysta Ryzewski "A Kind of Sacred Place": The Rock-and-Roll Ruins of AIR Studios, Montserrat," 2013, Archaeologies of Mobility and Movement.  Springer, New York. |
| Ryzewski, Krysta | CAS'01 | and John F. Cherry, Luke Pecoraro "A Kind of Sacred Place": The Rock-and-Roll Ruins of AIR Studios, Montserrat," 2013, Archaeologies of Mobility and Movement.  Springer, New York. |
| Shea, John J. | CAS'82 | Stone Tools in the Paleolithic and Neolithic Near East: A Guide, published by Cambridge Univ. Press |
| Tartaron, Thomas F. | 1996, PhD | 2013, Maritime Networks in the Mycenaean World. Cambridge University Press, Cambridge |
UNDER CONTRACT OR REVIEW:
Arcangeli, Myriam [PhD 2012], A Ceramic Culture: Canaris, Cannes, and Other Pottery of Colonial Guadeloupe. University Press of Florida, Gainesville. Under review.
Fortenberry, Brent R. [PhD 2012], Public Space in an Atlantic Capital: Church and State in Early Modern St. George's Bermuda. University Press of Florida, Gainesville. Under review.
Fortenberry, Brent R., Of Cedar and Stone: St. Peter's, Bermuda's Mother Church. Under contract with the National Museum of Bermuda, Somerset.
Hodge, Christina J. [PhD 2007], The Genteel Revolution: Foundations of the Middle Class in Colonial America. Cambridge University Press, Cambridge. Forthcoming 2014.
Beaudry, Mary C., and Karen Bescherer Metheny [PhD 2002], eds., Archaeology of Food: AnEncyclopedia. Rowman & Littlefield, Lanham, MD.
Jared Koller, Boston University Department of Archaeology graduate student was awarded a US State Department sponsored Critical Language Scholarship (CLS) for 2013.  The CLS Program in Indonesia provided an intensive language learning environment.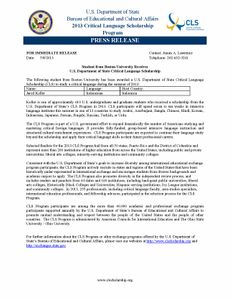 BU Today article
This summer, ….. high school students from the Wakefield Summer Archaeology Institute, led by Boston University doctoral candidates Jenny Wildt (GRS'14) and Sara Belkin (GRS'15). The group took part in a two-week archaeological dig at the site, which was settled in 1707.  Read more and see video
Archaeology students make stone tools with stone tools
Eight people sit in a circle, mostly mute, intently cutting or chopping chunks of obsidian on their laps with tools—which, like the obsidian, are stone. Occasional banter and a chorus of chip-chip-chip-CRACK break the quiet, … Click here for more
Professors Christopher Roosevelt and Christina Luke, co-Principal Investigators, awarded National Science Foundation for their research, Cultural Dynamics and Overlapping Interaction Spheres in the Marmara Lake Basin, Western Turkey, $202,124
Professor David Carballo,  awarded National Science Foundation Grant for his research, Urbanism, Neighborhood Organization, and Domestic Economy at the Tlajinga District, Teotihuacan, Mexico, $188,238
Research Assistant Professor Francisco Estrada-Belli, awarded National Science Foundation Grant for his research, Environmental Dynamics in the Southern Maya Lowlands: A Network of High Resolution, Multi-Proxy Reconstructions of Prehispanic Biomass Burning and Environmental Change, $77,795.
Kathryn Ness, graduate student, Professor Mary Beaudry, Principal Investigator, awarded a National Science Foundation Doctoral Dissertation Improvement Grant, An Archaeological Investigation of Culture and Social Display in the 18th-c. Spanish-Atlantic World, $22,000.  Kathryn has also been awarded a short-term Graduate Research Abroad Fellowship from Boston University.  These awards will support Kathryn's dissertation fieldwork and research in Spain and Florida.
Kaoru (Kay) Ueda, graduate student, Professor Robert Murowchick, Principal Investigator, awarded a National Science Foundation Doctoral Dissertation Improvement Grant, An Archaeological Investigation of Colonial Encounters: Dutch and Bantenese Food and Foodways in the 17th/18th century CE Sultanate of Banten, Java, Indonesia, $24,585.00.
Brent Fortenberry awarded the The Bermuda National Trust DeForest Trimingham Award for unwavering commitment to Bermuda's archaeological research and education by providing a glimpse into the lives of the island's residents throughout the centuries.
The first picture  is Dr. Fortenberry with Rev. David Raths Incumbent of St. Peters Church and Bermuda National Trust President Lt. Col. William White.  Second picture is Dr. Fortenberry,  Lt. Col. William White, and Bermuda Government Ministry of the Environment and Planning, Sylvan Ricardson.
The Wakefield Estate's Summer Archaeology Institute is designed for high school students interested in learning about archaeology and local history. Participants conduct an actual archaeological excavation on site under the direction of graduate students from Boston University. The institute is a two-week course that includes a field trip to visit other active archaeological sites in the Boston area.
There are two sessions offered for the summer of 2013:
Session I: July 8 -July 19; M-F 9am-3pm
Session II: July 22-August 2; M-F, 9am-3pm
For more information and an application to register for the 2013 institute, call 617-333-0924 or email us at wakefieldtrust@dogwoodlanefarm.org.
Here are several photos from Hank Lutton's current excavation on behalf of The Colonial Williamsburg Foundation in Williamsburg, Va. He is supervising Phase II of an extant ca. 1760 brick dwelling house, the Rabon-Saunders House on Ireland Street. While most of the historic stratigraphy has been displaced by late nineteenth and twentieth-century activities, they have recovered evidence of several outbuildings including a largely intact 8 by 10 foot brick footing for an eighteenth-century outbuilding, a fourth quarter nineteenth-century chimney base, a large, oblong, and enigmatic eighteenth-century pit feature they are still trying to ascertain the purpose of, a large eighteenth-century chimney base presumably from the original kitchen, and a ca. 1835-40 brick bat walkway. The attached files includes photos of several members of the crew and Hank with the eighteenth-century kitchen chimney base and second quarter nineteenth-century brick bat walkway. One shot shows the relationship with the house–which clearly leads from what would have been the original back door and cellar entrance to seal the earlier kitchen. The profile of Hank (taken by Rob Hunter (of "Ceramics in America" fame) shows him displaying a mid-twentieth-century Coca-Cola bottle manufactured in Bangor, Maine with the eighteenth-century Rabon-Saunders dwelling house behind Hank.
Congratulations to Kristen Wroth, she is the recipient of the 2012/2013 Teaching Fellow Excellence Award.
Kristin was the Teaching Fellow for Professor John Marston's course, CAS AR307, Archaeological Science.
To contribute to the Chad DiGregorio Fund, please click here.
More information about this fund can be found here.