History of the Department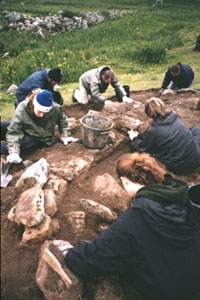 Archaeology is closely related to Anthropology, Classical Studies, and the History of Art and Architecture, but is distinguished from them by its specialization in the study of the human past through the lens of material culture obtained from excavations, surveys, and research in museums, laboratories, and libraries. Our faculty members do research across many disciplines and bring a wealth of learning and experience to the classroom. Our alumni enter a variety of professional positions, both within the academy and beyond. Archaeology is an interdisciplinary study, and we strive to convey our broad interests to our curriculum at all levels.
The Department of Archaeology was founded by Professors James R. Wiseman, Creighton Gabel, and Fred Kleiner who developed an archaeological program at Boston University based on the concept of archaeology as a discipline, and of archaeological research as an inter-disciplinary activity drawing upon the natural and social sciences and the humanities.
The first interdepartmental courses in archaeology, sponsored by the Departments of Classical Studies and Anthropology, were offered in 1974/75. In 1979 the College of Liberal Arts [now the College of Arts and Sciences] and the Graduate School instituted an inter-departmental Archaeological Studies Program with faculty drawn from Anthropology, Art History [now the Department of the History of Art and Architecture], Classical Studies, and Religion. The Program was supported by a grant from the National Endowment for the Humanities. In 1980, the Center for Archaeological Studies was established to develop and coordinate the growing number of academic programs in archaeology, faculty research, publications, contract work, and public education programs. The Center's Office of Public Archaeology (OPA) conducted archaeological investigations under contract with municipal, state, and federal agencies, and private corporations from 1981 to 1995.
The faculty of the College of Arts and Sciences approved the creation of the Department of Archaeology in 1981, and today the department offers degree programs at all levels and conducts original research in many parts of the world. Archaeology at BU is affiliated with the Archaeological Institute of America (AIA) the largest and oldest archaeological organization in North America, the Center for Remote Sensing (CRS), which engages in interdisciplinary, computer-assisted research that emphasizes archaeological applications, and the highly-ranked Journal of Field Archaeology.
Learn more
Save