Inaugural Raymond & Beverly Sackler
Distinguished Lecture in Archaeology
Endowed in Honor of Professor Norman Hammond

The Maya Murals of Bonampak:
Life and Death at a Royal Court
by
Dr. Mary Miller, Dean of Yale College
Wednesday, February 29, 2012
675 Commonwealth Avenue, STO Room B50, 6pm
Reception to follow at The Castle
225 Bay State Road
Painted 1200 years ago at a small Maya city in Chiapas, Mexico, the wall paintings of Bonampak show the splendor of an ancient royal court. Rich pigments in many colors bring to life scenes of battle, human sacrifice, and ritual. Elaborate textiles and towering headdresses emphasize the status of Bonampak's ruler and his nobles as they receive foreign emissaries and tribute, engage in court ceremonial, and strip the clothes from fallen captives. Reported only in 1946, the Bonapak murals are brought to life by Professor Miller using both newly rediscovered and freshly commissioned photographs as well as a series of recently-completed reconstructions. They offer a unique window into the vanished past of a great American civilization.
Bonampak is an ancient Maya archaeological site in the Mexican state of Chiapas.  The site is well-known for a number of murals, most especially those located within Structure 1 (The Temple of the Murals).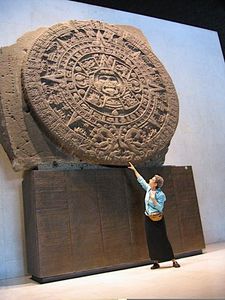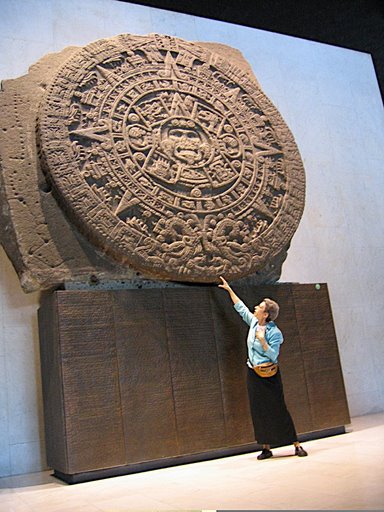 The Aztec calendar was the calendar of the Aztec people of Pre-Columbian Mexico. It is one of the Mesoamerican calendars, sharing the basic structure of calendars from throughout ancient Mesoamerica. This calendar is recorded as a carving on the Aztec Calendar Stone currently found in the National Museum of Anthropology and History located within Chapultepec Park, Mexico City.
Mary Miller at Bonampak.
Inside the Tonina Sarcophagus
Mural at Bonampak