After more than 30 years, it was time to come home.
For decades, our theater arts program operated out of the Boston University Theatre across town on Huntington Avenue, alongside the Huntington Theatre Company but separated from fellow student-artists and faculty on campus. In 2016, we sold the theater, along with several adjacent buildings. The proceeds, and a generous alumni gift, helped pay for the $83 million construction of a new performance space and production studios for the College of Fine Arts on the Charles River Campus.
The result is the Joan & Edgar Booth Theatre, a 21st-century learning environment to educate the next generation of artists and engage audiences in an immersive experience.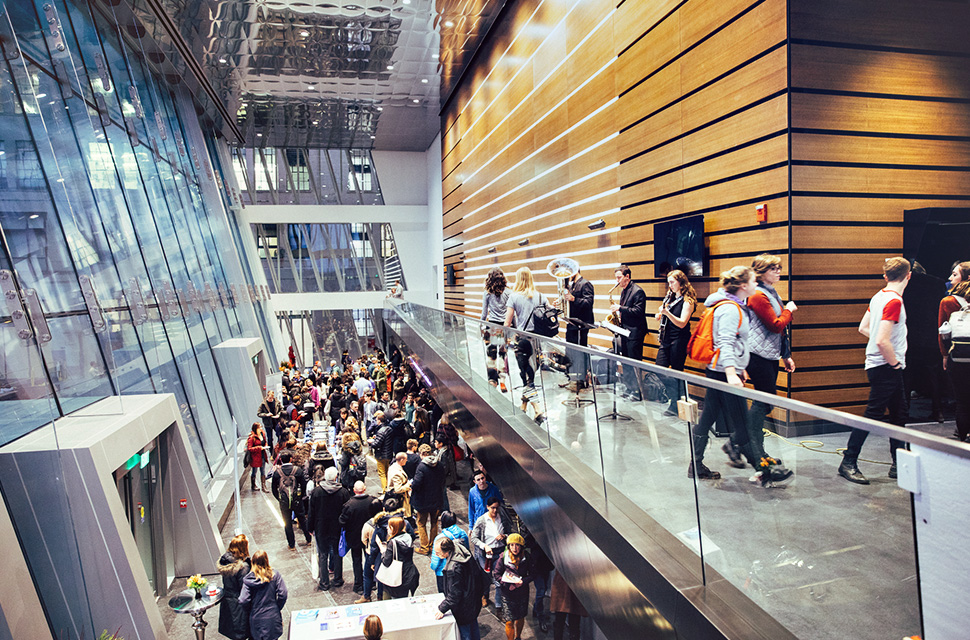 The new multifunctional studio theater offers seating for 250 and features advanced lighting and sound, a trapdoor that opens to under-stage space, and a flexible seating configuration. Also housed in the 75,000-square-foot complex is the College of Fine Arts Production Center, with costume shops, high-bay spaces for constructing and painting scenery and props, faculty offices, and studios for teaching lighting, sound, costume, and scenery design.
The theater was made possible in part by a $10 million gift from BU Trustee Stephen M. Zide (LAW'86) and honors his wife's parents, Joan and Edgar Booth. Designed by internationally recognized Elkus Manfredi Architects, the building's massive slanted facade serves as a mirror that puts pedestrians and Commonwealth Avenue onstage.
Jim Petosa, director of the School of Theatre and a professor of directing and dramatic criticism, is thrilled to have all of BU's artists concentrated in one area of campus and describes the new theater space as "a real amusement park of a laboratory."
Harvey Young, an award-winning theater historian whose work centers on race, history, and performance, is the new dean of the College of Fine Arts. "There are lots of universities in the Boston area, but there's an opportunity here for BU to be the university that is known for the arts at large," he says.