Keeping focus in a challenging financial environment
While the rest of the world confronted serious issues in the credit and housing markets, BU managed not only to hold its own financially but also make considerable progress. This is all due to careful planning, renewed budget discipline and the innovative modeling techniques implemented in the past few years. Some highlights include:
BU had an operating transfer of $109.7 million, virtually all of which will be reinvested in the BU franchise: academic operations, facilities, student services and other essential components of the BU experience.
Net assets at the end of June 2008 were $1.8 billion, representing an increase over the prior year. A major proportion of this figure represents endowment, which is now being overseen by the University's new Investment Office.
The Pooled Endowment returned +3.3 percent for FY08, compared to a return of –13.1 percent for the S&P 500 for the same period. This performance placed Boston University in the top quartile of the College and University universe as reported by Cambridge Associates.
For FY08, Boston University's endowment distribution totaled $30.0 million, of which $25.4 million was available for support of operations, representing 1.7 percent of the operating budget.
Boston University generated a total of $78.2 million of private support, which includes $27.9 million in private grants.
BU's bond rating goes up—twice
One of the nicer developments over the past fiscal year came after Standard & Poor's and Moody's made visits to campus in connection with bond issues for Student Village Phase II and other projects. Both institutions were so impressed with BU's financial planning and approach to investing that they raised their ratings—from BBB+ to A– for Standard & Poor's and from A3 to A2 for Moody's. Anyone who has followed the financial crisis of the past year will appreciate what an accomplishment that is and what a credit it is to the team that's executing against the Strategic Plan every day at BU.
Moving forward
Naturally, we'd like to continue the financial success we've had over the past year. How do we do that? By maintaining our budgetary discipline, focusing on strong fiscal management and continuing to strengthen our investment oversight. By handling these complex tasks carefully and consistently, we can manage our cost structure efficiently and fund our diverse operations as robustly as possible.
FY 2008 revenue and expense
Revenue
Total revenue = $1,461.2 million
Expense
Total expense = $1,398.7 million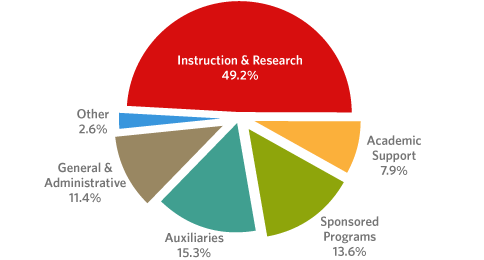 Performance benchmarks
Total assets
Endowment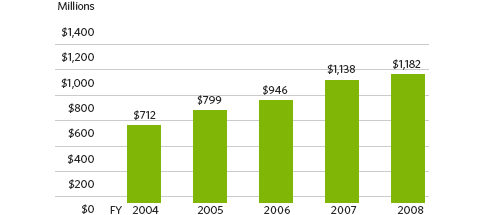 Grant and contract revenue