Effective connectivity studies in patients with chronic aphasia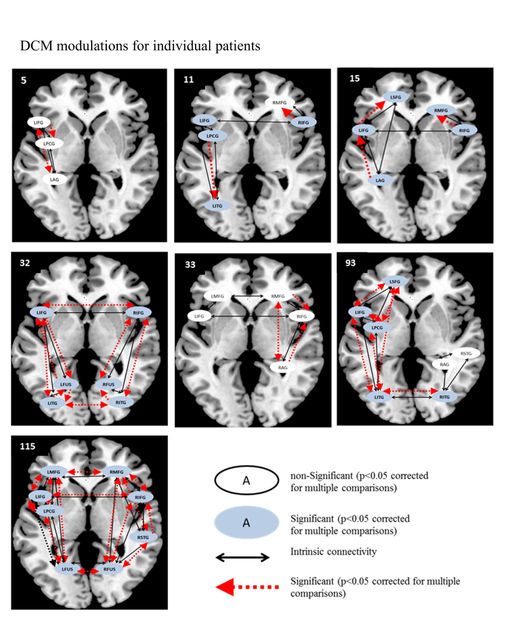 Changes in effective connectivity following therapy for naming deficits
In this study, we examined regions in the left and right hemisphere language network that were altered in terms of the underlying neural activation and effective connectivity subsequent to language rehabilitation. Eight persons with chronic post-stroke aphasia and eight normal controls participated in the current study. Patients received a 10 week semantic feature-based rehabilitation program to improve their skills. Therapy was provided on atypical examples of one trained category while two control categories were monitored; the categories were counterbalanced across patients. In each fMRI session, two experimental tasks were conducted: (a) picture naming and (b) semantic feature verification of trained and untrained categories. Analysis of treatment effect sizes revealed that all patients showed greater improvements on the trained category relative to untrained categories. Results from this study show remarkable patterns of consistency despite the inherent variability in lesion size and activation patterns across patients. Across patients, activation that emerged as a function of rehabilitation on the trained category included bilateral IFG, bilateral SFG, LMFG, and LPCG for picture naming; and bilateral IFG, bilateral MFG, left SFG, and bilateral MTG for semantic feature verification. Analysis of effective connectivity using Dynamic Causal Modeling (DCM) indicated that LIFG was the consistently significantly modulated region after rehabilitation across participants. These results indicate that language networks in patients with aphasia resemble normal language control networks and this similarity is accentuated by rehabilitation.
Effective connectivity differences between individuals with and without aphasia
In other projects, we used DCM to examine differences between individuals with aphasia and healthy controls in the connectivity of a three-region left hemisphere language network. This network included two "classic" language regions, LMTG and LIFG, which have been implicated in heteromodal semantic processing and semantic access, respectively. The third region in the network, LMFG, has been implicated in domain-general processing.
In the first study, we found that best-fit brain network models for a picture naming task differed between groups.  Specifically, models with driving input to LMFG best explained patient data and models with direct task effects to LIFG best fit control data. We also found significant relationships between task-specific brain connectivity, naming performance and the amount of spared tissue in each of the cortical hubs in the patient group. Overall, patients with aphasia tended to rely on more domain-general (i.e., LMFG) rather than "classic" language regions (i.e., LIFG and LMTG) during naming.
In a follow-up project, we found even greater differences between patients and healthy controls in left frontotemporal network connectivity for a semantic feature verification task. Similar to the picture naming task, models with driving input to LIFG best fit control data. Models with driving input to LMTG fit the patient group data best although heterogeneity in patient model fit was noted. Moreover, despite weaker task effects in each cortical region, patients had more excitatory connections than controls, signifying a patient network that is functionally distinct from that of healthy controls.
Our publications and projects in this area:
Meier, E. L., Kapse, K. J., & Kiran, S. (2016). The relationship between frontotemporal effective connectivity during picture naming, behavior, and preserved cortical tissue in chronic aphasia. Front. Hum. Neurosci., 10, 109. DOI: 10.3389/fnhum.2016.00109.  http://journal.frontiersin.org/article/10.3389/fnhum.2016.00109/full
Kiran S, Meier EL, Kapse KJ and Glynn PA (2015) Changes in task-based effective connectivity in language networks following rehabilitation in post-stroke patients with aphasia.Frontiers in Human Neuroscience. 9:316. doi: 10.3389/fnhum.2015.00316
Buckshaw, R., Meier, E. L., & Kiran, S. (2017, March). Effective connectivity of aphasic bilingual semantic processing. Accepted for poster presentation at the 2017 Cognitive Neuroscience Society Annual meeting, San Francisco, CA.
Meier, E. L., & Kiran, S. (2016, October). Frontotemporal effective connectivity during semantic feature judgments in patients with aphasia versus healthy controls. Poster presentation at the 54th Annual Meeting of the Academy of Aphasia, Llandudno, Wales, United Kingdom.
Meier, E., Kapse, K., & Kiran, S. (2015, October). Effective connectivity of the naming network in post-stroke chronic aphasia. Poster presentation at the 7th Annual Meeting of the Society for the Neurobiology of Language, Chicago, IL.
Kiran, S., Kapse, K., & Meier, E. (2015, June). Effective connectivity analysis of language networks in healthy adults and in chronic aphasia. Poster presentation at the 21st Annual Meeting of the Organization for Human Brain Mapping, Honolulu, HI.