Cheryl Knott
Faculty Profiles
Cheryl Knott
Associate Professor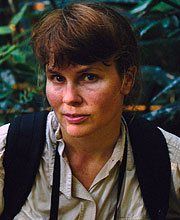 Office: 232 Bay State Road, #104D
Office Phone: 617-353-7723
E-mail: knott@bu.edu
Fall Office Hours:
Mondays, 12-1; Thursdays 1:30-3:30; and by appointment
Biological anthropologist Cheryl Knott's research is focused on orangutan behavior and biology, both as a way to further our understanding of endangered great apes and as a model for looking at human evolutionary history. Dr. Knott earned her undergraduate degree in anthropology from the University of California, Davis, and a PhD in anthropology from Harvard University, where she served as an associate professor through last year.
At her Gunung Palung Orangutan Project, research station in Indonesia, Dr. Knott has focused on the reproductive physiology of male and female orangutans, and has elucidated the influence of food availability on their sensitive reproductive system. She is also actively involved with trying to protect this endangered species and its rain forest habitat through varied conservation activities, including education, public awareness, population and habitat census, and active interactions with Indonesian government organizations to fight illegal logging activities.
Cheryl was awarded the 2011 Templeton Award for Excellence in Student Advising for recognition of her work with her undergraduate advisees.
Courses
AN 102 Human Behavioral Biology and Evolution
AN 597 Seminar in Biological Anthropology
AN 263 Behavioral Biology of Women (new course)
AN 558 Behavioral Biology of Human Sex Differences
Education
PhD Harvard University
AM Harvard University
BS University of California, Davis