The Brink article analyzing Netflix's new hit series, "Love Is Blind," features BU Anthropology Professor, Nancy Smith-Hefner
"Is Love "Blind"?," posted to the Boston University publication, The Brink, on March 11, interviews Professor Smith-Hefner on relationships in order to understand the science behind the success stories and, more notably, the failures of Netflix's new series. Smith-Hefner details the fascinating ways that people fall in love, and how that process and cultural expectations differ around the world, answering the question: is love really blind?
Read the full article online here.
---
Boston University professor, Curtis Runnels, receives two prestigious honors for his work in classical studies
Curis Runnels (Professor of Archaeology, Anthropology, and Classical Studies) has received two honors.
He has been elected to the Board of Overseers of the Gennadius Library in Athens, Greece. The Gennadius Library is part of the American School of Classical Studies in Athens. Founded in 1881, the School supports research and study in Greece for graduate students and scholars from a consortium of 190 North American colleges and universities, including Boston University. The School is the administrative center for all archaeological research in Greece conducted by North American institutions. The Gennadius Library has the most extensive collection of books, manuscripts, art, and archives related to Greek civilization from the end of Classical Antiquity to the modern world.
Dr. Runnels has also been awarded the Gennadius Prize for 2020. Named in honor of John Gennadius, the Greek Ambassador to the Court of St. James in the early 20th century and famous bibliophile, this prize is awarded for "outstanding contributions to the advancement of knowledge of post-antique Greece." The Prize will be presented at a Gala at Gotham Hall in New York City on May 14, 2020.
---
BU Assistant Professor of Anthropology, Caterina Scaramelli, featured in The Brink article highlighting research conducted in India
"Tracking the Path of the Opioid Crisis," posted to the Boston University publication, The Brink, on January 18, follows the efforts of BU historian Ben Siegel as he investigates poppy fields in Indian and their link to the opioid crisis in the United States with the help of Caterina Scaramelli.
---
BU Alumna Arianna Huhn publishes a book set to be released in September
Arianna Huhn is a Boston University graduate who secured her PhD from the Department of Anthropology in 2013. Now an Associate Professor of Anthropology at California State University, San Bernadino, Huhn is gearing up for the release of her book, "Nourishing Life: Foodways and Humanity in an African Town." The book details research that Huhn conducted for her PhD in Mozambique, a coastal nation in southern Africa, and explores nutrition and the cultural practices surrounding cuisine within a small town. It is set to be released by Berghahn Books in September.
View and Pre-order "Nourishing Life" here.
---

"Seven Worlds, One Planet" documentary airs "Asia" episode on BBC featuring BU Anthropology professor Cheryl Knott's research site
The BBC documentary series "Seven Worlds, One Planet" contains seven episodes spanning across the seven continents. Gunung National Park, Cheryl Knott's research site, appears in "Asia," the second episode in the series, as camera crews documented orangutans found there. The episode premiered on BBC American on February 8th and can be watched on YouTube TV with a subscription or bought on Amazon Prime. The "making of" extended feature at the end of the episode features a behind the scenes look at the segment filmed at the site.
The Boston University news publication, The Brink, recently released an article about Knott, her family and their contributions to the documentary. You can read the compelling account of the family's efforts to document and protect the species here. 
Watch a trailer for "Seven Worlds, One Planet" here.
---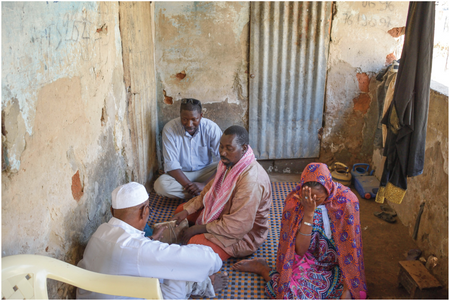 BU anthropologist, Fallou Ngom, is studying a little-known written language for new insight into African history and culture
For centuries, scholars' understanding of sub-Saharan Africa derived from the written records of European colonialists, who gave the impression that sub-Saharan Africans had no native written languages of their own. In fact, says Fallou Ngom, who grew up in Senegal, people in sub-Saharan Africa have used a written system derived from Arabic to record the details of their daily lives since at least the 10th century.
That script, Ajami, is still flourishing; people throughout Africa use it to write phonetic renderings of about a dozen languages, including Swahili, Wolof, and Hausa. But because texts written in Ajami are often passed down through families where they can be lost over generations, many are inaccessible to scholars, few of whom can read the script anyway. Those who know about Ajami texts often dismiss them as mundane, with little scholarly value. Ngom, director of Boston University's African Studies Center, disagrees. He is digitizing more than 18,000 of these indigenous texts—including those in Ajami, Arabic, and Ajami-Arabic—and making them widely available to offer scholars new insight into African history, literature, culture, medicine, and everyday life.
Under Ngom's leadership, BU offers the only Ajami program in the United States. "Our students are the first generation who are able to read these documents, and have access to these resources," he says. African studies students are helping Ngom and his colleagues to develop classroom materials, and are learning to teach Ajami. Through this work, "we are beginning to address this fundamental flaw in the training of a new generation of Africanists," Ngom says.
---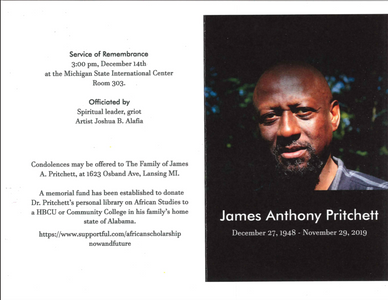 Memorial notice for James A. Pritchett, Professor Emeritus of Anthropology and former Director of the African Studies Center
Click here to see the full memorial booklet.
---
Ngom Delivers
African Studies Review

Distinguished Lecture at ASA Annual Meeting

Fallou Ngom

, Director of the

African Studies Center

at the Frederick S. Pardee School of Global Studies and Professor in the Department of Anthropology at Boston University, delivered the

African Studies Review

Distinguished Lecture at the African Studies Association annual meeting held in Boston from

November 21-23, 2019

.

Ngom delivered a lecture emphasizing the importance written sources for exploring African history and society.

"We are excluding millions of people from reflecting on their own lives and communities through our limited definition of literacy," Ngom said. "This needs to change."
---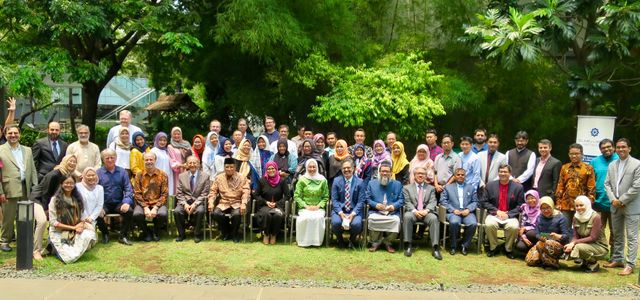 Hefner Speaks at International Conference on "The Islamic Case for Religious Freedom"
The question of whether religious freedom is an exclusively Western and "liberal" value or one that has resonances in Islamic civilization and modernity has been fiercely debated in recent years, in policy circles as well as by anthropologists like Saba Mahmood and Talal Asad.   On November 11 and 12, the Department's Bob Hefner attended an international conference on "The Islamic Case for Religious Freedom," in Jakarta, Indonesia.  Sponsored by the International Institute of Advanced Islamic Studies (Malaysia), the Fatayat Nahdlatul Ulama Indonesia (the women's wing of the 70 million strong Nahdulatul Ulama), and the Religious Freedom Institute (Washington DC), the conference brought together 80 Muslim and non-Muslim scholars from some 20 countries to explore religious and legal supports for an Islamic approach to freedom and religious diversity.