Featured Publications
Featured Publications
Assembling Japan: Case Studies in Cultural Globalization
Merry White
Assembl
ing Japan focuses on Japan's modernization as a long-term process that is reliant on changing technology and that has led to the nation's full engagement with the global system. This process forms a complex field of tensions, full of interesting dynamisms and synergies that can be best understood through the book's methodology: anthropological analysis combined with historical contextualization.
The approaches in this collection are manifold. Some chapters examine the themes of modernity, technology and Japan's global experience though popular culture, from reggae to football, from television to film. Other topics include coffee, travel, economics, cultural politics and technological innovation in the field of robotics. All of the contributions aim to show how these global interactions have occurred and continue to take place in twenty-first-century Japan.
Publisher: Peter Lang AG, Internationaler Verlag der Wissenschaften (October 29, 2015)
ISBN-10: 3034318308
ISBN-13: 978-3034318303
Coffee Life in Japan
Merry White
This fascinating book—part ethnography, part memoir—traces Japan's vibrant café society over one hundred and thirty years. Merry White traces Japan's coffee craze from the turn of the twentieth century, when Japan helped to launch the Brazilian coffee industry, to the present day, as uniquely Japanese ways with coffee surface in Europe and America. White's book takes up themes as diverse as gender, privacy, perfectionism, and urbanism. She shows how coffee and coffee spaces have been central to the formation of Japanese notions about the uses of public space, social change, modernity, and pleasure. White describes how the café in Japan, from its start in 1888, has been a place to encounter new ideas and experiments in thought, behavior, sexuality , dress, and taste. It is where a person can be socially, artistically, or philosophically engaged or politically vocal. It is also, importantly, an urban oasis, where one can be private in public.
Publisher: University of California Press; First Edition; 1st P edition (May 1, 2012)
ISBN-10: 0520271157
ISBN-13: 978-052027115
Muslims beyond the Arab World: The Odyssey of Ajami and the Muridiyya
Fallou Ngom
Fallou Ngom evaluates prevailing representations of the Muridiyya movement and offers alternative perspectives. He demonstrates how the Mur?ds used their written, recited, and chanted 'Ajami materials as an effective mass communication tool in conveying to the masses Bamba's poignant odyssey, doctrine, the virtues he stood for and cultivated among his followers-self-esteem, self-reliance, strong faith, work ethic, pursuit of excellence, determination, nonviolence, and optimism in the face of adversity-without the knowledge of the French colonial administration and many academics. Muslims beyond the Arab World argues that this is the source of the resilience, appeal, and expansion of Muridiyya, which has fascinated observers since its inception in 1883.
Publisher: Oxford University Press; 1 edition (July 1, 2016)
ISBN-10: 3034318308
ISBN-13: 978-3034318303
Rhinestones, Religion, and the Republic: Fashioning Jewishness in France
Arkin Kimberly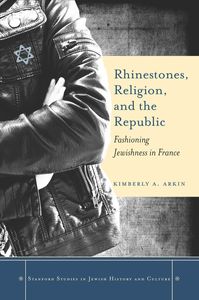 During the course of her fieldwork in Paris, anthropologist Kimberly Arkin heard what she thought was a surprising admission. A French-born, North African Jewish (Sephardi) teenage girl laughingly told Arkin she was a racist. When asked what she meant by that, the girl responded, "It means I hate Arabs."
This girl was not unique. She and other Sephardi youth in Paris insisted, again and again, that they were not French, though born in France, and that they could not imagine their Jewish future in France. Fueled by her candid and compelling informants, Arkin's analysis delves into the connections and disjunctures between Jews and Muslims, religion and secular Republicanism, race and national community, and identity and culture in post-colonial France. Rhinestones argues that Sephardi youth, as both "Arabs" and "Jews," fall between categories of class, religion, and culture. Many reacted to this liminality by going beyond religion and culture to categorize their Jewishness as race, distinguishing Sephardi Jews from "Arab" Muslims, regardless of similarities they shared, while linking them to "European" Jews (Ashkenazim), regardless of their differences. But while racializing Jewishness might have made Sephardi Frenchness possible, it produced the opposite result: it re-grounded national community in religion-as-race, thereby making pluri-religious community appear threatening. Rhinestones thus sheds light on the production of race, alienation, and intolerance within marginalized French and European populations.
Publisher: Stanford University Press (December 18, 2013)
ISBN-10: 0804786003
ISBN-13: 978-0804786003
Method and Theory in Paleoethnobotany
John Marston
Paleoethnobotany, the study of archaeological plant remains, is poised at the intersection of the study of the past and concerns of the present, including agricultural decision making, biodiversity, and global environmental change, and has much to offer to archaeology, anthropology, and the interdisciplinary study of human relationships with the natural world. Method and Theory in Paleoethnobotany demonstrates those connections and highlights the increasing relevance of the study of past human-plant interactions for understanding the present and future.
A diverse and highly regarded group of scholars reference a broad array of literature from around the world as they cover their areas of expertise in the practice and theory of paleoethnobotany—starch grain analysis, stable isotope analysis, ancient DNA, digital data management, and ecological and postprocessual theory.
The only comprehensive edited volume focusing on method and theory to appear in the last twenty-five years, Method and Theory in Paleoethnobotany addresses the new areas of inquiry that have become central to contemporary archaeological debates, as well as the current state of theoretical, methodological, and empirical work in paleoethnobotany.
Publisher: University Press of Colorado; 1 edition (February 15, 2015)
ISBN-10: 160732315X
ISBN-13: 978-1607323150
Rethinking Pluralism: Ritual, Experience, and Ambiguity
Robert Weller (with Adam B. Seligman)
How can we order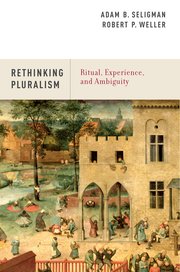 the world while accepting its enduring ambiguities? Rethinking Pluralism suggests a new approach to the problem of ambiguity and social order, which goes beyond the default modern position of 'notation' (resort to rules and categories to disambiguate). The book argues that alternative, more particularistic modes of dealing with ambiguity through ritual and shared experience better attune to contemporary problems of living with difference. It retrieves key aspects of earlier discussions of ambiguity evident in rabbinic commentaries, Chinese texts, and Greek philosophical and dramatic works, and applies those texts to modern problems. The book is a work of recuperation that challenges contemporary constructions of tradition and modernity. In this, it draws on the tradition of pragmatism in American philosophy, especially John Dewey's injunctions to heed the particular, the contingent and experienced as opposed to the abstract, general and disembodied. Only in this way can new forms of empathy emerge congruent with the deeply plural nature of our present experience. While we cannot avoid the ambiguities inherent to the categories through which we construct our world, the book urges us to reconceptualize the ways in which we think about boundaries – not just the solid line of notation, but also the permeable membrane of ritualization and the fractal complexity of shared experience.
Publisher: Oxford University Press; 1 edition (August 29, 2012)
ISBN-10: 0199915288
ISBN-13: 978-0199915286
Sacred Rice: An Ethnography of Identity, Environment, and Development in Rural West Africa
Joanna Davidson
Sacred Rice explores the
cultural intricacies through which Jola farmers in West Africa are responding to their environmental and economic conditions given the centrality of a crop–rice–that is the lynchpin for their economic, social, religious, and political worlds. 
Based on more than ten years of author Joanna Davidson's ethnographic and historical research on rural Guinea-Bissau, this book looks at the relationship among people, plants, and identity as it explores how a society comes to define itself through the production, consumption, and reverence of rice. It is a narrative profoundly tied to a particular place, but it is also a story of encounters with outsiders who often mediate or meddle in the rice enterprise. Although the focal point is a remote area of West Africa, the book illuminates the more universal nexus of identity, environment, and development, especially in an era when many people–rural and urban–are confronting environmental changes that challenge their livelihoods and lifestyles.
Publisher: Oxford University Press; 1 edition (August 14, 2015)
ISBN-10: 0199358680
ISBN-13: 978-0199358687
The Anthropology of Performance: A Reader
Frank J Korom
The Anthrop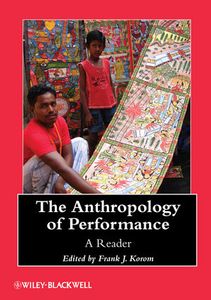 ology of Performance is an invaluable guide to this exciting and growing area.  This cutting-edge volume on the major advancements in performance studies presents the theories, methods, and practices of performance in cultures around the globe. Leading anthropologists describe the range of human expression through performance and explore its role in constructing identity and community, as well as broader processes such as globalization and transnationalism.
Introduces new and advanced students to the task of studying and interpreting complex social, cultural, and political events from a performance perspective
Presents performance as a convergent field of inquiry that bridges the humanities and social sciences, with a distinctive cross-cultural perspective in anthropology
Demonstrates the range of human expression and meaning through performance in related fields of religious & ritual studies, folkloristics, theatre, language arts, and art & dance
Explores the role of performance in constructing identity, community, and the broader processes of globalization and transnationalism
Includes fascinating global case studies on a diverse range of phenomena
Contributions from leading scholars examine verbal genres, ritual and drama, public spectacle, tourism, and the performances embedded in everyday selves, communities and nations
Publisher: Wiley-Blackwell; 1 edition (February 18, 2013)
ISBN-10: 1118323998
ISBN-13: 978-1118323991