Carmela Abraham, PhD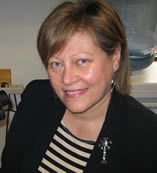 Professor of Biochemistry and Medicine
Phone: 617.638.4308
Fax: 617.638.5339
Email: cabraham@bu.edu
Location: K-620
Background
Dr. Carmela Abraham completed her undergraduate degree at Tel Aviv University, Israel. She earned her PhD degree in Neurobiology from Harvard University. She joined the Boston University School of Medicine's Departments of Medicine and Biochemistry in 1989 as an Assistant Professor and has since been promoted to Professor.
Research Interests
Dr. Abraham's research interests are focused on the etiology of Alzheimer's disease and the role of the Amyloid Precursor Protein (APP) and Abeta peptide in the development of the disease. She also studies enzymes that break down the toxic Abeta peptide as a means to therapeutically clear the brain of this peptide. Genetic and molecular studies indicate that Abeta initiates the neurodegenerative aspects of Alzheimer's disease.
ADC Role
Basic scientist collaborating with ADC scientists.
Awards/Memberships
Dr. Abraham is the recipient of The Neuroscience Education and Research Foundation Award for an Outstanding Promise as a Young Alzheimer Investigator (1990). Moreover she is the recipient of the highest awards from the Alzheimer's Association – The Zenith Award (1994) and the Temple Award (1999). She is a member of the Society for Neuroscience, American Society for Neurochemistry, American Association of Neuropathologists, New York Academy of Science, International Society for Amyloidosis, American Academy for the Advancement of Science, among others.
Recent Publications
Erlich PM, Lunetta KL, Cupples LA, Abraham CR, Green RC, Baldwin CT, Farrer LA. Serum paraoxonase activity is associated with variants in the PON gene cluster and risk of Alzheimer disease. Neurobiol Aging. 2010 Oct 25. (Epub ahead of print). [PDF]
Oh SY, Chen CD, Abraham CR. Cell-type dependent modulation of Notch signaling by the amyloid precursor protein. J Neurochem. 2010 Apr;113(1):262-74. Epub 2010 Jan 20. [PDF]
Yamin R, Zhao C, O'Connor PB, McKee AC, Abraham CR. Acyl peptide hydrolase degrades monomeric and oligomeric amyloid-beta peptide. Mol Neurodegener. 2009 Jul 23;4:33. [PDF]
Zerbinatti CV, Cordy JM, Chen CD, Guillily M, Suon S, Ray WJ, Seabrook GR, Abraham CR, Wolozin B. Oxysterol-binding protein-1 (OSBP1) modulates processing and trafficking of the amyloid precursor protein. Mol Neurodegener. 2008 Mar 18;3:5. [PDF]
Chen CD, Podvin S, Gillespie E, Leeman SE, Abraham CR. Insulin stimulates the cleavage and release of the extracellular domain of Klotho by ADAM10 and ADAM17. Proc Natl Acad Sci U S A. 2007 Dec 11;104(50):19796-801. Epub 2007 Dec 3. [PDF]
Duce JA, Podvin S, Hollander W, Kipling D, Rosene DL, Abraham CR. Gene profile analysis implicates Klotho as an important contributor to aging changes in brain white matter of the rhesus monkey. Glia. 2008 Jan 1;56(1):106-17. [PDF]
Abraham, C.R. The amyloid precursor protein and presenilins. Elsevier's Encyclopedia of Neuroscience, 3rd Edition. 2004. Ed.George Adelman and Barry Smith.
Abraham, C.R. Reactive astrocytes and alpha1-antichymotrypsin in Alzheimer's disease. Neurobiol Aging 2001; 22:931-936. [PDF]