12th Annual Alzheimer's Disease Research Day – Wednesday, November 12th, 2014
The 12th Annual Alzheimer's Research Day was held on Wednesday, November 12th, 2014.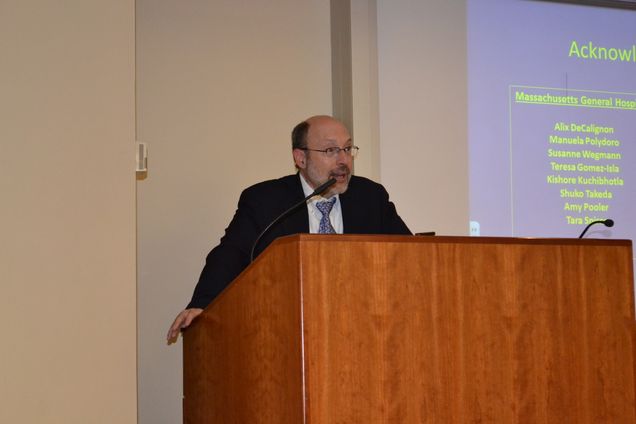 The keynote address was given by  Dr. Bradley T. Hyman, MD, Ph.D., Professor of Neurology, Harvard Medical, School, Director, Massachusetts Alzheimer Disease Research Center, and Co-Vice Chair in the Neurology Department at Massachusetts General Hospital. Dr. Hyman's lecture was entitled "Molecular Basis of Progression in Alzheimer's Disease"
This event, which showcases Alzheimer's disease and related neurodegenerative disease research at Boston University, is free and open to the public. It is co-sponsored by the BU Alzheimer's Disease Center (BU ADC) and the Graduate Program in Neuroscience.
Four Abstracts Presentations were also presented by Boston University Faculty & Staff
Association of Aortic Plaques with Cerebrovascular Disease in the Framingham Offspring Study
Blast-Related Traumatic Brain Injury and Sequelae in a Mouse Model
Deciphering The Mechanisms By Which Inhibiting APP Dimerization Leads To Lowering Abeta Production
Tau-tubulin kinase 1 (TTBK1) expression induces region-specific axonal degeneration and phosphorylation of tau and CRMP2 in AD models