Ann McKee, MD
Professor of Neurology & Pathology, Director, Neuropathology Core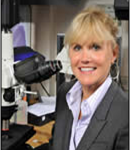 Dr. McKee completed her undergraduate studies at the University of Wisconsin and received her medical degree from the Case Western Reserve School of Medicine. She completed residency training in neurology at Cleveland Metropolitan General Hospital and fellowship training in neuropathology at Massachusetts General Hospital. She was Assistant Professor of Neuropathology at Harvard Medical School from 1991-94, when she became Associate Professor of Neurology and Pathology at Boston University School of Medicine. In 2011, she was promoted to Professor of Neurology and Pathology. Dr. McKee directs the Neuropathology Service for the New England Veterans Administration Medical Centers (VISN-1) and the Brain Banks for the Boston University Alzheimer's Disease Center, Chronic Traumatic Encephalopathy Center, Framingham Heart Study, and Centenarian Study, which are all based at the Bedford VAMC. Dr. McKee is also the Chief Neuropathologist for the National VA ALS Brain Bank.
Research Interests
Dr. McKee's research interests center on the neuropathological alterations of neurodegenerative diseases, with a primary focus on the role of tau protein, axonal injury, trauma, vascular injury, and neurodegeneration. Much of her current work centers on the long-term consequences of repetitive head injury from contact sports and military service. As a board-certified neurologist and neuropathologist, she is particularly interested in the clinical, behavioral and psychological manifestations of pathological disease and the neuroanatomical localization of clinical symptoms. She has written widely on many neurodegenerative diseases including Alzheimer's disease, Lewy Body disease, Parkinson's Disease, Progressive Supranuclear Palsy, Multiple System Atrophy, Frontotemporal Degeneration, Corticobasal Degeneration and Chronic Traumatic Encephalopathy (CTE). She has been an invited participant in several NIH-sponsored workshops on Progressive Supranuclear Palsy, Vascular Dementia and Traumatic Brain Injury. Dr. McKee has unparalleled experience in the neuropathology of Chronic Traumatic Encephalopathy and recently won the Moore Award Honorable Mention for her paper entitled "Chronic Traumatic Encephalopathy of Football Players" at the annual meeting of the American Association of Neuropathologists. Her work has been essential in establishing the neuropathological diagnostic criteria for CTE and for microvascular CNS injury. She is also keenly interested in the neuropathology of normal aging and disorders of the spinal cord. More about her research can be found in her laboratory. Dr. Ann McKee Laboratory
ADC Role
Dr. McKee directs the Neuropathology Core of the Center, where she is responsible for conducting neuropathological analyses of brain tissue and maintaining the Center's Brain Bank. Dr. McKee also leads clinical-pathological case conferences as part of the Center's Research Seminar series. At her Bedford VAMC laboratory she conducts weekly brain cuttings and gives monthly clinicopathological case conferences to GRECC staff.
Awards/Memberships
Dr. McKee is a past recipient of the Moore Award and a recent recipient of the 2006 and 2009 Moore Award Honorable Mention from the American Association of Neuropathologists.  She is also a recipient of a Merit Award from the Department of Veterans Affairs.
Recent Publications
McKee AC, Stein TD, Nowinski CJ, Stern RA, Daneshvar D, Alvarez V, Lee HS, Hall G, Wojtowicz SM, Baugh CM, Riley DO, Kubilis CA, Cormier KA, Jacobs MA, Martin BR, Abraham CR, Ikezu T, Reichard RR, Wolozin BL, Budson AE, Goldstein LE, Kowall NW, Cantu RC. The Spectrum of Disease in Chronic Traumatic Encephalopathy. Brain, January 2013 136 43-64. PMID: 23208308 (Click to view)
Yamin R, Zhao C, O'Connor PB, McKee AC, Abraham CR. Acyl peptide hydrolase degrades monomeric and oligomeric amyloid-beta peptide. Mol Neurodegener, 2009, Jul 23; 4:33. [PDF]
Mastroeni D, McKee A, Grover A, Rogers J, Coleman PD. Epigenetic differences in cortical neurons from a pair of monozygotic twins discordant for Alzheimer's disease. PLoS One, 2009, Aug 12; 4(8):e6617. [PDF]
Harper DG, Stopa EG, Kuo-Leblanc V, McKee A, Asayama K, Volicer L, Kowall N, Saitlin A. Dorsomedial SCN neuronal subpopulations subserve different functions in human dementia. Brain, 2008, in press. [PDF]
McKee AC, Cantu RC, Nowinski CJ, Hedley-Whyte ET, Gavett BE, Budson AE, Santini VE, Lee H-Y, Kubilus CA, Stern RA. Chronic traumatic encephalopathy in athletes: Progressive tauopathy after repetitive head injury.  J Neuropath Exp Neurol, 2009, 68(7): 709.735. [PDF]
McKee AC, Carreras I, Hossain L, Ryu H, Klein W, Oddo S, LaFerla F, Jenkins B, Kowall N, Dedeoglu A. Ibuprofen reduces intraneuronal Aß, prevents hyperphosphorylated tau and ameliorates cognitive deficits in young triple transgenic Alzheimer mice.Brain Research, 2008 May 1; 1207: 225-36. [PDF]
Hanlon EB, Perelman LT, Vitkin EI, Greco FA, McKee AC, Kowall NW. Scattering differentiates Alzheimer disease in vitro. Opt Lett 2008, 15:33 (6): 624-26. [PDF]
Tobin JE, Cui J, Wilk JB, Latourelle JC, Laramie JM, McKee AC, Guttman M, Karamohamed S, DeStefano AL, Myers RH. Sepiapterin reductase expression is increased in Parkinson's disease brain tissue. Brain Research, 2007; 1139: 42-47. PDF
McKee AC, Au R, Cabral HJ, Kowall NW, Seshadri, S, Kubilus C, Drake J, Wolf P. Visual Association Pathology in Preclinical AD. Journal Neuropath Exp Neurol, 2006 June;65(6):621-630. [PubMed]
Kraytsberg Y, Kudryavtseva E, McKee AC, Geula C, Kowall NW, Khrapko K. Mitochondrial DNA deletions are abundant and cause functional impairment in aged human substantia nigra neurons. Nat Genet, 2006 May;38(5):518-20. [PubMed]
Lynch JA, George AM, Eisenhauer PB, Conn K, Gao W, Carreras I, Wells JM, McKee A, Ullman MD, Fine RE. Insulin degrading enzyme is localized predominantly at the cell surface of polarized and unpolarized human cerebrovascular endothelial cell cultures. J Neurosci Res. 2006 May 15;83(7):1262-70. [PubMed]
Yip AG, McKee AC, Green RC, Wells J, Young H, Cupples LA, Farrer LA. APOE, vascular pathology, and the AD brain. Neurology. 2005 Jul 26;65(2):259-65. [PubMed]
Harper DG, Volicer L, Stopa EG, McKee AC, Nitta M, Satlin A. Disturbance of endogenous circadian rhythm in aging and Alzheimer disease. Am J Geriatr Psychiatry. 2005 May;13(5):359-68. [PubMed]
Conn K, Gao W, McKee A, Lan MS, Ullman MD, Eisenhauer PB, Fine R, Wells JM. Identification of the protein disulfide isomerase family member PDIp in experimental Parkinson's disease and Lewy Body Pathology. Brain Research, 2004;1022 (1-2):164-72. [PubMed]
Gao W, Eisenhauer PB, Conn K, Lynch JA, Wells JM, Ullman MD, McKee A, Thatte HS, Fine RE. Insulin degrading enzyme is expressed in the human cerebrovascular endothelium and in cultured human cerebrovascular endothelial cells. Neurosci Lett. 2004;371(1):6-11. [PubMed]
Georgopoulos S, McKee A, Kan HY, Zannis VI. Generation and characterization of two transgenic mouse lines expressing human ApoE2 in neurons and glial cells. Biochemistry 2002;41(30):9293-301. [PubMed]
Volicer L, McKee AC, Hewitt S. Dementia. Neurology Clinics 2001;19:867- 885.
Harper DG, Stopa EG, McKee AC, Satlin A, Harlan PC, Goldstein R, Volicer L. Differential circadian rhythm disturbances in men with Alzheimer disease and frontotemporal degeneration. Arch Gen Psychiatry 2001;58(4):353-60. [PubMed]
Muller J, Wenning G, Verny M, McKee A, Chaudhuri R, Poewe W, Litvan I. Progression of dysarthria and dysphagia in post-mortem-confirmed Parkinsonian disorders. Arch Neurol 2001;58: 259-264. [PubMed]
Muller J, Wenning GK, Jellinger K, McKee A, Poewe W, Litvan I. Progression of Hoehn and Yahr stages in Parkinsonian disorders: a clinicopathologic study. Neurology 2000;55(6):888-91. [PubMed]