Community Affiliations
Community Partnerships & Affiliations
In a continued effort to educate the greater Boston community about Alzheimer's disease (AD) and to make clinical care and research opportunities available to patients and families dealing with AD, the Boston University Alzheimer's Disease Center (BU ADC) has established formal partnerships and affiliations with various agencies throughout Eastern Massachusetts. The BU ADC partners with the Alzheimer's Association and its affiliations include  Carleton-Willard Village and Senior Living Residences.
The BU ADC continues to develop additional community affiliations. For more information, contact the Outreach & Recruitment Coordinator: 617.414.1077.
The BU ADC works in partnership with the Alzheimer's Association, the nations leading voluntary health organization in Alzheimer care, support and research. The Alzheimer's Association shares the BU ADC's mission to eliminate Alzheimer's disease through the advancement of research, to provide and enhance care and support for all affected, and to reduce the risk of dementia through the promotion of brain health. The Alzheimer's Association works closely with the BU ADC to increase and improve local services to ensure quality medical care, comprehensive education, and support services for patients with dementia and their family members through coordination of educational activities, and through the facilitation of recruitment efforts for the Center's clinical research studies.
"We value the dedication of the professionals at the BU ADC and we appreciate the collaboration with the Alzheimer's Association to assist the thousands of families being served by Boston Medical Center and to address disparities in health care delivery."
- Jim Wessler, President and CEO at Alzheimer's Association for the Greater Boston Area
.
Continuing Care Retirement Communities
Carleton-Willard Village is an accredited, not-for-profit continuing care retirement community for older adults who seek to maintain and improve their quality of life. Located in Bedford, MA, The Village offers a continuum of care, from Independent Living and Assistance in Living to Skilled Nursing and Rehabilitation, with a commitment to caring for residents with AD and related dementias.
"The affiliation with the BU Alzheimer's Disease Center provides Carleton-Willard with a wonderful opportunity to integrate emotional health with physical health and to collaborate with an outstanding institution as we continue to develop a reputation as a center for excellence in gerontology."
- Barbara Doyle, CEO and President of Carleton-Willard Village.
Lasell Village is an award winning senior housing community with an emphasis on active, intellectually enriched living. Lasell combines the security of a continuing care retirement community with the cultural, social, and recreational opportunities of lifelong learning. Although it is one of a growing number of college-affiliated retirement communities, it is the first to feature a formal, individualized and required continuing education program for residents.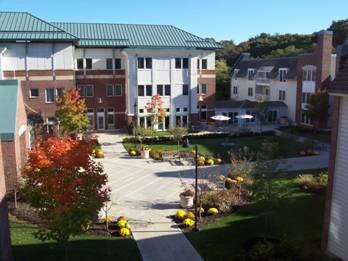 Independent & Assisted Living
Fervently adhering to its "Right Values"— Resident Quality of Life, Valued Associates, Integrity and Innovation—Senior Living Residences (SLR) is a trusted leader in the communities it serves through innovative programs and services. Partnering with equally committed organizations, SLR remains at the forefront of research-based care for seniors, especially those living with Alzheimer's disease. Senior Living Residences has been on the cutting edge in terms of their programming and management of assisted living residences for the last 20 years. SLR currently manages 10 assisted living communities, 3 of which it owns.
For more information, contact SLR at 617.268.9140 or online at www.SeniorLivingResidences.com.
"The affiliation with the BU ADC creates opportunities for our families and residents to have access to the world's leaders in research, education, and treatment of Alzheimer's disease."
- Tadd Clelland, Executive Vice President of the Senior Living Residences