Wendy Qiu, MD, PhD
Associate Professor
Departments of Psychiatry and Pharmacology & Experimental Therapeutics

Phon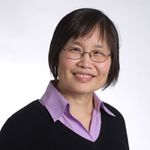 e: 617.638.4336
Fax: 617.638.5254
Email: wqiu67@bu.edu
Background
Wendy Qiu is an Associate Professor in the Psychiatry Department, Pharmacology & Experimental Therapeutics Department, Alzheimer's disease Center (ADC) at Boston University School of Medicine. She is also a faculty member in the Neuroscience Program at Boston University.
Dr. Qiu is both a physician and a scientist. She is a Board Certified Psychiatrist who was trained at Tufts Medical Center and at the Payne Whitney Clinic, New York Presbyterian Hospital, Cornell Medical Center. She currently spends 50% of her time caring for patients with dementia and other psychiatric illnesses, including late life depression, and seeing patients in the ADC for the clinical trials. Many of her patients seek care at BU because they are frustrated with their deteriorating cognitive function and their behavior or mood symptoms are causing tremendous burdens for their caregivers. Motivated by her desire to help patients with devastating diseases in geriatric psychiatry, especially dementia which frequently lacks diagnostic tools and effective therapies, Dr. Qiu devotes the other 50% of her time to researching the fundamental causational mechanisms of these diseases, and to translate her findings to seeking biomarkers for the diagnoses and treatment of psychiatric illnesses.

Research Interests
-Identifying and studying the modifiable and non-modifiable risk factors and their mechanisms in Alzheimer's disease (AD): We have an established homebound elderly population in the Boston area, and we are performing longitudinal evaluations of their cognition, psychiatric, and neurological conditions. Some of the homebound elderly have also taken part in brain imaging. Our study focuses on the relationship between late life depression, type 2 diabetes, and AD. Investigating the brain's regulation of emotion, obesity/diabetes, and cognition in AD pathogenesis will help to develop novel treatments for the intervention and early treatment of AD.
-Identifying and studying the communication between peripheral biomarkers and brain abnormalities in aging and the prodromal stage of AD: We are targeting biomarkers that could lead to an early diagnosis of AD, especially Aß peptides and cytopkines found in blood and cerebral spinal fluid. We are also using neuro-imaging such as magnetic resonance imaging (MRI) and magnetic resonance spectroscopy (MRS), to study these biomarkers and brain composition.
-Investigating the Insulin Degrading Enzyme: Our study and others have identified that the insulin-degrading enzyme (IDE) plays a key role in the clearance of amyloid beta peptides (Aß), a major component in AD pathology. IDE also degrades insulin and amylin, and it might be a key component in type 2 diabetes. Our research goal is to further investigate whether defects of IDE activity and its regulation accelerates AD pathology in the elderly who suffer from type 2 diabetes.ADC Role
Recent Publications
Click here for a full list of publications.
Zhu H, Wang X, Wallack M, Li H, Carreras I, Dedeoglu A, Hur JY, Zheng H, Li H, Fine R, Mwamburi M, Sun X, Kowall N, Stern RA, Qiu WQ. Intraperitoneal injection of the pancreatic peptide amylin potently reduces behavioral impairment and brain amyloid pathology in murine models of Alzheimer's disease. Mol Psychiatry. 2015 Feb; 20(2):252-62. PMID: 24614496.

Qiu WQ, Wallack M, Dean M, Liebson E, Mwamburi M, Zhu H. Association between amylin and amyloid-ß peptides in plasma in the context of apolipoprotein E4 allele. PLoS One. 2014; 9(2):e88063. PMID: 24520345.

Qiu WQ, Au R, Zhu H, Wallack M, Liebson E, Li H, Rosenzweig J, Mwamburi M, Stern RA. Positive association between plasma amylin and cognition in a homebound elderly population. J Alzheimers Dis. 2014; 42(2):555-63. PMID: 24898659.

Vu LN, Dean MJ, Mwamburi M, Au R, Qiu WQ. Executive function and mortality in homebound elderly adults. J Am Geriatr Soc. 2013 Dec; 61(12):2128-34. PMID: 24479144.

Qiu WW, Lai A, Mon T, Mwamburi M, Taylor W, Rosenzweig J, Kowall N, Stern R, Zhu H, Steffens DC. Angiotensin converting enzyme inhibitors and Alzheimer disease in the presence of the apolipoprotein E4 allele. Am J Geriatr Psychiatry. 2014 Feb; 22(2):177-85. PMID: 23567418.

Brodoefel H, Ramachandran R, Pantol G, Bergethon P, Qiu WQ, Scott T, Rojas R, Horger M, Rosenberg I, Bhadelia RA. Association between linear measurements of corpus callosum and gait in the elderly. Eur Radiol. 2013 Aug; 23(8):2252-7. PMID: 23512195.

Qiu WQ, Mwamburi M, Besser LM, Zhu H, Li H, Wallack M, Phillips L, Qiao L, Budson AE, Stern R, Kowall N. Angiotensin converting enzyme inhibitors and the reduced risk of Alzheimer's disease in the absence of apolipoprotein E4 allele. J Alzheimers Dis. 2013; 37(2):421-8. PMID: 23948883.

Ma XY, Qiu WQ, Smith CE, Parnell LD, Jiang ZY, Ordovas JM, Tucker KL, Lai CQ. Association between BDNF rs6265 and obesity in the Boston Puerto Rican Health Study. J Obes. 2012; 2012:102942. PMID: 23326649.

Zhu H, Bhadelia RA, Liu Z, Vu L, Li H, Scott T, Bergethon P, Mwamburi M, Rosenzweig JL, Rosenberg I, Qiu WQ. The association between small vessel infarcts and the activities of amyloid-ß peptide degrading proteases in apolipoprotein E4 allele carriers. Angiology. 2013 Nov; 64(8):614-20. PMID: 23076436.

Koo BB, Bergethon P, Qiu WQ, Scott T, Hussain M, Rosenberg I, Caplan LR, Bhadelia RA. Clinical prediction of fall risk and white matter abnormalities: a diffusion tensor imaging study. Arch Neurol. 2012 Jun; 69(6):733-8. PMID: 22332181.

Claunch JD, Chan ST, Nixon EE, Qiu WQ, Sporko T, Dunn JP, Kwong KK, Hui KK. Commonality and specificity of acupuncture action at three acupoints as evidenced by FMRI. Am J Chin Med. 2012; 40(4):695-712. PMID: 22809025.

Liu Z, Zhu H, Fang GG, Walsh K, Mwamburi M, Wolozin B, Abdul-Hay SO, Ikezu T, Leissring MA, Qiu WQ. Characterization of insulin degrading enzyme and other amyloid-ß degrading proteases in human serum: a role in Alzheimer's disease? J Alzheimers Dis. 2012; 29(2):329-40. PMID: 22232014.

Mwamburi DM, Liebson E, Folstein M, Bungay K, Tucker KL, Qiu WQ. Depression and glycemic intake in the homebound elderly. J Affect Disord. 2011 Jul; 132(1-2):94-8. PMID: 21396718.

Sun X, Bhadelia R, Liebson E, Bergethon P, Folstein M, Zhu JJ, Mwamburi DM, Patz S, Qiu WQ. The relationship between plasma amyloid-ß peptides and the medial temporal lobe in the homebound elderly. Int J Geriatr Psychiatry. 2011 Jun; 26(6):593-601. PMID: 21480376.

Sun X, Bhadelia R, Liebson E, Bergethon P, Folstein M, Zhu JJ, Mwamburi DM, Patz S, Qiu WQ. The relationship between plasma amyloid-ß peptides and the medial temporal lobe in the homebound elderly. Int J Geriatr Psychiatry. 2010 Dec 9. PMID: 21154622.

Qiu WQ, Dean M, Liu T, George L, Gann M, Cohen J, Bruce ML. Physical and mental health of homebound older adults: an overlooked population. J Am Geriatr Soc. 2010 Dec; 58(12):2423-8. PMID: 21070195.

Qiu WQ, Claunch J, Kong J, Nixon EE, Fang J, Li M, Vangel M, Hui KK. The effects of acupuncture on the brain networks for emotion and cognition: an observation of gender differences. Brain Res. 2010 Nov 29; 1362:56-67. PMID: 20851113.

Qiu WQ, Sun X, Mwamburi DM, Haker J, Lisle D, Rizal A, Lin YM, Qiao L, Summergrad P, Folstein M, Rosenberg I. Plasma Amyloid-ß Peptides and Homocysteine in Depression in the Homebound Elderly. N Am J Med Sci (Boston). 2010 Apr; 3(2):61-67. PMID: 23766866.

Lai CQ, Parnell LD, Troen AM, Shen J, Caouette H, Warodomwichit D, Lee YC, Crott JW, Qiu WQ, Rosenberg IH, Tucker KL, Ordovás JM. MAT1A variants are associated with hypertension, stroke, and markers of DNA damage and are modulated by plasma vitamin B-6 and folate. Am J Clin Nutr. 2010 May; 91(5):1377-86. PMID: 20335551.