Ann McKee, MD
Professor of Neurology & Pathology, CTE Center Director,  ADC Center Associate Director, AD & CTE Center Neuropathology Core Director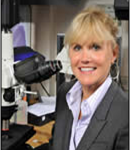 Dr. McKee completed her undergraduate studies at the University of Wisconsin and received her medical degree from the Case Western Reserve School of Medicine. She completed residency training in neurology at Cleveland Metropolitan General Hospital and fellowship training in neuropathology at Massachusetts General Hospital. She was Assistant Professor of Neuropathology at Harvard Medical School until 1993, and is currently Professor of Neurology and Pathology at Boston University School of Medicine. Dr. McKee is the Chief Neuropathologist for VA Boston Healthcare System, and director of the CTE Center and Neuropathology Core for the Boston University Alzheimer's Disease Center (BUADC). Dr. McKee is also associate director of the BUADC. Dr. McKee directs multiple brain banks including those for the BUADC and Framingham Heart Study which are based at the Bedford VA, and the VA-BU-CLF and  Chronic Effects of Neurotrauma Consortium brain banks which are based at VA Boston. Dr. McKee's research focuses on CTE and the late-effects of traumatic neurodegeneration.
Research Interests
Dr. McKee's research interests center on the neuropathological alterations of neurodegenerative diseases, with a primary focus on the role of tau protein, axonal injury, trauma, vascular injury, and neurodegeneration. Much of her current work centers on the long-term consequences of repetitive head injury from contact sports and military service. As a board-certified neurologist and neuropathologist, she is particularly interested in the clinical, behavioral and psychological manifestations of pathological disease and the neuroanatomical localization of clinical symptoms. She has written widely on many neurodegenerative diseases including Alzheimer's disease, Lewy Body disease, Parkinson's Disease, Progressive Supranuclear Palsy, Multiple System Atrophy, Frontotemporal Degeneration, Corticobasal Degeneration and Chronic Traumatic Encephalopathy (CTE). She has been an invited participant in several NIH-sponsored workshops on Progressive Supranuclear Palsy, Vascular Dementia and Traumatic Brain Injury. Dr. McKee has unparalleled experience in the neuropathology of Chronic Traumatic Encephalopathy and recently won the Moore Award Honorable Mention for her paper entitled "Chronic Traumatic Encephalopathy of Football Players" at the annual meeting of the American Association of Neuropathologists. Her work has been essential in establishing the neuropathological diagnostic criteria for CTE and for microvascular CNS injury. She is also keenly interested in the neuropathology of normal aging and disorders of the spinal cord.
AD & CTE Center Role
Dr. McKee directs the Neuropathology Core of the Center, where she is responsible for conducting neuropathological analyses of brain tissue and maintaining the Center's Brain Bank. Dr. McKee also leads clinical-pathological case conferences as part of the Center's Research Seminar series. At her Bedford VAMC laboratory she conducts weekly brain cuttings and gives monthly clinicopathological case conferences to GRECC staff.
Awards/Memberships
Dr. McKee is a past recipient of the Moore Award and a recent recipient of the 2006 and 2009 Moore Award Honorable Mention from the American Association of Neuropathologists.  She is also a recipient of a Merit Award from the Department of Veterans Affairs.
Recent Publications
For full list of publications click here.
Kriegel J, Papadopoulos Z, McKee AC. Chronic Traumatic Encephalopathy: Is Latency in Symptom Onset Explained by Tau Propagation? Cold Spring Harb Perspect Med. 2017 Jan 17. PMID: 28096246.

Armstrong RA, McKee AC, Cairns NJ. Pathology of the Superior Colliculus in Chronic Traumatic Encephalopathy. Optom Vis Sci. 2017 Jan; 94(1):33-42. PMID: 27391531.

Woerman AL, Aoyagi A, Patel S, Kazmi SA, Lobach I, Grinberg LT, McKee AC, Seeley WW, Olson SH, Prusiner SB. Tau prions from Alzheimer's disease and chronic traumatic encephalopathy patients propagate in cultured cells. Proc Natl Acad Sci U S A. 2016 Dec 13; 113(50):E8187-E8196. PMID: 27911827.

Cherry JD, Tripodis Y, Alvarez VE, Huber B, Kiernan PT, Daneshvar DH, Mez J, Montenigro PH, Solomon TM, Alosco ML, Stern RA, McKee AC, Stein TD. Microglial neuroinflammation contributes to tau accumulation in chronic traumatic encephalopathy. Acta Neuropathol Commun. 2016 Oct 28; 4(1):112. PMID: 27793189.

Armstrong RA, McKee AC, Alvarez VE, Cairns NJ. Clustering of tau-immunoreactive pathology in chronic traumatic encephalopathy. J Neural Transm (Vienna). 2016 Oct 21. PMID: 27770214.

McKee AC, Alosco ML, Huber BR. Repetitive Head Impacts and Chronic Traumatic Encephalopathy. Neurosurg Clin N Am. 2016 Oct; 27(4):529-35. PMID: 27637402.

Alosco ML, Mez J, Kowall NW, Stein TD, Goldstein LE, Cantu RC, Katz DI, Solomon TM, Kiernan PT, Murphy L, Abdolmohammadi B, Daneshvar D, Montenigro PH, Nowinski CJ, Stern RA, McKee AC. Cognitive Reserve as a Modifier of Clinical Expression in Chronic Traumatic Encephalopathy: A Preliminary Examination. J Neuropsychiatry Clin Neurosci. 2016 Aug 19; appineuropsych16030043. PMID: 27539377.

Besser LM, Alosco ML, Ramirez Gomez L, Zhou XH, McKee AC, Stern RA, Gunstad J, Schneider JA, Chui H, Kukull WA. Late-Life Vascular Risk Factors and Alzheimer Disease Neuropathology in Individuals with Normal Cognition. J Neuropathol Exp Neurol. 2016 Oct; 75(10):955-962. PMID: 27516116.

Bangen KJ, Himali JJ, Beiser AS, Nation DA, Libon DJ, Fox CS, Seshadri S, Wolf PA, McKee AC, Au R, Delano-Wood L. Interaction Between Midlife Blood Glucose and APOE Genotype Predicts Later Alzheimer's Disease Pathology. J Alzheimers Dis. 2016 Jul 6; 53(4):1553-62. PMID: 27392855.

Montenigro PH, Alosco ML, Martin BM, Daneshvar DH, Mez J, Chaisson CE, Nowinski CJ, Au R, McKee AC, Cantu RC, McClean MD, Stern RA, Tripodis Y. Cumulative Head Impact Exposure Predicts Later-Life Depression, Apathy, Executive Dysfunction, and Cognitive Impairment in Former High School and College Football Players. J Neurotrauma. 2017 Jan 15; 34(2):328-340. PMID: 27029716.

Armstrong RA, McKee AC, Stein TD, Alvarez VE, Cairns NJ. A quantitative study of tau pathology in eleven cases of chronic traumatic encephalopathy. Neuropathol Appl Neurobiol. 2016 Mar 21. PMID: 26998921.

Mez J, Solomon TM, Daneshvar DH, Stein TD, McKee AC. Pathologically Confirmed Chronic Traumatic Encephalopathy in a 25-Year-Old Former College Football Player. JAMA Neurol. 2016 Mar; 73(3):353-5. PMID: 26747562.

Huber BR, Alosco ML, Stein TD, McKee AC. Potential Long-Term Consequences of Concussive and Subconcussive Injury. Phys Med Rehabil Clin N Am. 2016 May; 27(2):503-11. PMID: 27154859.

Kanaan NM, Cox K, Alvarez VE, Stein TD, Poncil S, McKee AC. Characterization of Early Pathological Tau Conformations and Phosphorylation in Chronic Traumatic Encephalopathy. J Neuropathol Exp Neurol. 2016 Jan; 75(1):19-34. PMID: 26671985.

Mufson EJ, Perez SE, Nadeem M, Mahady L, Kanaan NM, Abrahamson EE, Ikonomovic MD, Crawford F, Alvarez V, Stein T, McKee AC. Progression of tau pathology within cholinergic nucleus basalis neurons in chronic traumatic encephalopathy: A chronic effects of neurotrauma consortium study. Brain Inj. 2016; 30(12):1399-1413. PMID: 27834536.

McKee AC, Cairns NJ, Dickson DW, Folkerth RD, Keene CD, Litvan I, Perl DP, Stein TD, Vonsattel JP, Stewart W, Tripodis Y, Crary JF, Bieniek KF, Dams-O'Connor K, Alvarez VE, Gordon WA. The first NINDS/NIBIB consensus meeting to define neuropathological criteria for the diagnosis of chronic traumatic encephalopathy. Acta Neuropathol. 2016 Jan; 131(1):75-86. PMID: 26667418.

Kovacs GG, Ferrer I, Grinberg LT, Alafuzoff I, Attems J, Budka H, Cairns NJ, Crary JF, Duyckaerts C, Ghetti B, Halliday GM, Ironside JW, Love S, Mackenzie IR, Munoz DG, Murray ME, Nelson PT, Takahashi H, Trojanowski JQ, Ansorge O, Arzberger T, Baborie A, Beach TG, Bieniek KF, Bigio EH, Bodi I, Dugger BN, Feany M, Gelpi E, Gentleman SM, Giaccone G, Hatanpaa KJ, Heale R, Hof PR, Hofer M, Hortobágyi T, Jellinger K, Jicha GA, Ince P, Kofler J, Kövari E, Kril JJ, Mann DM, Matej R, McKee AC, McLean C, Milenkovic I, Montine TJ, Murayama S, Lee EB, Rahimi J, Rodriguez RD, Rozemüller A, Schneider JA, Schultz C, Seeley W, Seilhean D, Smith C, Tagliavini F, Takao M, Thal DR, Toledo JB, Tolnay M, Troncoso JC, Vinters HV, Weis S, Wharton SB, White CL, Wisniewski T, Woulfe JM, Yamada M, Dickson DW. Aging-related tau astrogliopathy (ARTAG): harmonized evaluation strategy. Acta Neuropathol. 2016 Jan; 131(1):87-102. PMID: 26659578.