Neil Kowall, MD (ADC Director)
ADC Director,  Professor of Neurology and Pathology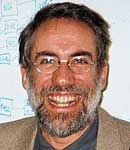 Dr. Neil W. Kowall was born in Calgary, Canada and graduated with his MD from the University of British Columbia in 1979. He moved to Boston for postgraduate training in Internal Medicine at the Beth Israel Deaconess Hospital followed by a Neurology residency at Massachusetts General Hospital. After finishing his clinical training, he completed a postdoctoral research fellowship and was appointed Assistant Professor of Neurology at Massachusetts General Hospital and Harvard Medical School. He moved to the VA and Boston University in 1992 where he is currently Professor of Neurology and Pathology, Chief of Neurology at VA Boston Healthcare System, Director of the VA New England Geriatric Research Education and Clinical Center and Director of the NIH-funded Boston University Alzheimer's Disease Center. He has published over 199 original reports. His major research interests are human neuroanatomy and neuropathology and the use of animal models to test novel therapies for neurodegenerative diseases including Alzheimer's disease.
Research Interests
Dr. Kowall's research interests include the following: human neuroanatomy, immunocytochemistry and enzyme histochemistry of the brain, neuropathological basis of neurological disorders, animal models of neurological diseases, geriatric neurology, and cognitive decline in the elderly.
ADC Role
Dr. Kowall is the Principal Investigator and Director of the NIH-funded BU ADC and leads its Administrative Core.  He is also a Co-Principal Investigator for the BU site of the Alzheimer's Disease Neuroimaging Initiative (ADNI).
Awards
Dr. Kowall has received various awards, including the following: two Medical Research Council Studentship awards, the Russel Prize in Anatomy, the Hamber Prize in Medicine, the Bristol Medical Prize in Pharmacology, the Merck Scholarship in Medical Therapeutics, the Mead Prize in Pediatrics, the FIRST Award (R29) from National Institute of Neurological Disorders and Stroke, the Moore Award for Best Paper on Clinicopathological Correlation from the American Association of Neuropathologists, two Director's Special Quality Awards/Commendations from the Bedford VAMC, and the Zenith Award from the Alzheimer's Association.
Memberships
Dr. Kowall is also a member of several professional organizations, including the Massachusetts Medical Society, the Society for Neuroscience, the American Association of Neuropathologists, the Society for Experimental Neuropathology, the International Society of Neuropathology, the Royal Society of Medicine (U.K.), the American Geriatrics Society, and the American Neurological Association. He was the president of the Boston Society of Neurology and Psychiatry from 1999-2000.
Recent Publications
For full list of publications click here

Wang E, Zhu H, Wang X, Gower AC, Wallack M, Blusztajn JK, Kowall N, Qiu WQ. Amylin Treatment Reduces Neuroinflammation and Ameliorates Abnormal Patterns of Gene Expression in the Cerebral Cortex of an Alzheimer's Disease Mouse Model. J Alzheimers Dis. 2017; 56(1):47-61. PMID: 27911303.

Rauh SP, Heymans MW, Mehr DR, Kruse RL, Lane P, Kowall NW, Volicer L, van der Steen JT. Predicting mortality in patients treated differently: updating and external validation of a prediction model for nursing home residents with dementia and lower respiratory infections. BMJ Open. 2016 Aug 30; 6(8):e011380. PMID: 27577584.

Alosco ML, Mez J, Kowall NW, Stein TD, Goldstein LE, Cantu RC, Katz DI, Solomon TM, Kiernan PT, Murphy L, Abdolmohammadi B, Daneshvar D, Montenigro PH, Nowinski CJ, Stern RA, McKee AC. Cognitive Reserve as a Modifier of Clinical Expression in Chronic Traumatic Encephalopathy: A Preliminary Examination. J Neuropsychiatry Clin Neurosci. 2016 Aug 19; appineuropsych16030043. PMID: 27539377.

Galetta KM, Chapman KR, Essis MD, Alosco ML, Gillard D, Steinberg E, Dixon D, Martin B, Chaisson CE, Kowall NW, Tripodis Y, Balcer LJ, Stern RA. Screening Utility of the King-Devick Test in Mild Cognitive Impairment and Alzheimer Disease Dementia. Alzheimer Dis Assoc Disord. 2016 Jun 13. PMID: 27299935.

Aytan N, Choi JK, Carreras I, Brinkmann V, Kowall NW, Jenkins BG, Dedeoglu A. Fingolimod modulates multiple neuroinflammatory markers in a mouse model of Alzheimer's disease. Sci Rep. 2016; 6:24939. PMID: 27117087.

Chapman KR, Bing-Canar H, Alosco ML, Steinberg EG, Martin B, Chaisson C, Kowall N, Tripodis Y, Stern RA. Mini Mental State Examination and Logical Memory scores for entry into Alzheimer's disease trials. Alzheimers Res Ther. 2016 Feb 22; 8:9. PMID: 26899835.

Mez J, Solomon TM, Daneshvar DH, Murphy L, Kiernan PT, Montenigro PH, Kriegel J, Abdolmohammadi B, Fry B, Babcock KJ, Adams JW, Bourlas AP, Papadopoulos Z, McHale L, Ardaugh BM, Martin BR, Dixon D, Nowinski CJ, Chaisson C, Alvarez VE, Tripodis Y, Stein TD, Goldstein LE, Katz DI, Kowall NW, Cantu RC, Stern RA, McKee AC. Assessing clinicopathological correlation in chronic traumatic encephalopathy: rationale and methods for the UNITE study. Alzheimers Res Ther. 2015; 7(1):62. PMID: 26455775.

Stein TD, Montenigro PH, Alvarez VE, Xia W, Crary JF, Tripodis Y, Daneshvar DH, Mez J, Solomon T, Meng G, Kubilus CA, Cormier KA, Meng S, Babcock K, Kiernan P, Murphy L, Nowinski CJ, Martin B, Dixon D, Stern RA, Cantu RC, Kowall NW, McKee AC. Beta-amyloid deposition in chronic traumatic encephalopathy. Acta Neuropathol. 2015 Jul; 130(1):21-34. PMID: 25943889.

Wang LS, Naj AC, Graham RR, Crane PK, Kunkle BW, Cruchaga C, Murcia JD, Cannon-Albright L, Baldwin CT, Zetterberg H, Blennow K, Kukull WA, Faber KM, Schupf N, Norton MC, Tschanz JT, Munger RG, Corcoran CD, Rogaeva E. Rarity of the Alzheimer disease-protective APP A673T variant in the United States. JAMA Neurol. 2015 Feb; 72(2):209-16. PMID: 25531812.

Gifford KA, Liu D, Carmona H, Lu Z, Romano R, Tripodis Y, Martin B, Kowall N, Jefferson AL. Inclusion of an informant yields strong associations between cognitive complaint and longitudinal cognitive outcomes in non-demented elders. J Alzheimers Dis. 2015; 43(1):121-32. PMID: 25061054.

Kim Y, Kang YS, Lee NY, Kim KY, Hwang YJ, Kim HW, Rhyu IJ, Her S, Jung MK, Kim S, Lee CJ, Ko S, Kowall NW, Lee SB, Lee J, Ryu H. Uvrag targeting by Mir125a and Mir351 modulates autophagy associated with Ewsr1 deficiency. Autophagy. 2015; 11(5):796-811. PMID: 25946189.

Naj AC, Jun G, Reitz C, Kunkle BW, Perry W, Park YS, Beecham GW, Rajbhandary RA, Hamilton-Nelson KL, Wang LS, Kauwe JS, Huentelman MJ, Myers AJ, Bird TD, Boeve BF, Baldwin CT, Jarvik GP, Crane PK, Rogaeva E, Barmada MM, Demirci FY, Cruchaga C, Kramer PL, Ertekin-Taner N, Hardy J, Graff-Radford NR, Green RC, Larson EB, St George-Hyslop PH, Buxbaum JD, Evans DA, Schneider JA, Lunetta KL, Kamboh MI, Saykin AJ, Reiman EM, De Jager PL, Bennett DA, Morris JC, Montine TJ, Goate AM, Blacker D, Tsuang DW, Hakonarson H, Kukull WA, Foroud TM, Martin ER, Haines JL, Mayeux RP, Farrer LA, Schellenberg GD, Pericak-Vance MA. Effects of multiple genetic loci on age at onset in late-onset Alzheimer disease: a genome-wide association study. JAMA Neurol. 2014 Nov; 71(11):1394-404. PMID: 25199842.

Sun X, Salat D, Upchurch K, Deason R, Kowall N, Budson A. Destruction of white matter integrity in patients with mild cognitive impairment and Alzheimer disease. J Investig Med. 2014 Oct; 62(7):927-33. PMID: 25046178.

Jo S, Yarishkin O, Hwang YJ, Chun YE, Park M, Woo DH, Bae JY, Kim T, Lee J, Chun H, Park HJ, Lee da Y, Hong J, Kim HY, Oh SJ, Park SJ, Lee H, Yoon BE, Kim Y, Jeong Y, Shim I, Bae YC, Cho J, Kowall NW, Ryu H, Hwang E, Kim D, Lee CJ. GABA from reactive astrocytes impairs memory in mouse models of Alzheimer's disease. Nat Med. 2014 Aug; 20(8):886-96. PMID: 24973918.

Korkmaz OT, Aytan N, Carreras I, Choi JK, Kowall NW, Jenkins BG, Dedeoglu A. 7,8-Dihydroxyflavone improves motor performance and enhances lower motor neuronal survival in a mouse model of amyotrophic lateral sclerosis. Neurosci Lett. 2014 Apr 30; 566:286-91. PMID: 24637017.

Zhu H, Wang X, Wallack M, Li H, Carreras I, Dedeoglu A, Hur JY, Zheng H, Li H, Fine R, Mwamburi M, Sun X, Kowall N, Stern RA, Qiu WQ. Intraperitoneal injection of the pancreatic peptide amylin potently reduces behavioral impairment and brain amyloid pathology in murine models of Alzheimer's disease. Mol Psychiatry. 2015 Feb; 20(2):252-62. PMID: 24614496.