Carmela Abraham, PhD
Professor of Biochemistry and Medicine
Professor of Pharmacology & Experimental Therapeutics
Dr. Ca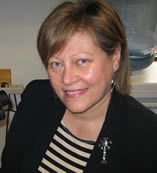 rmela Abraham completed her undergraduate degree at Tel Aviv University, Israel. She earned her PhD degree in Neurobiology from Harvard University. She joined the Boston University School of Medicine's Departments of Medicine and Biochemistry in 1989 as an Assistant Professor and has since been promoted to Professor.
Research Interests
Our laboratory studies the molecular mechanisms leading to normal brain aging and the pathological processes that culminate in Alzheimer's disease and multiple sclerosis. With microarray analysis we identified genes that play crucial roles in brain dysfunction leading to cognitive decline. An example is Klotho, a cytoprotective, anti-aging protein. We found that Klotho expression is considerably decreased in the aged brains of monkeys, rats, and mice. We are now working to comprehensively characterize the role of Klotho in normal aging and disease.  Our projects are to identify Klotho receptors in the brain and define the signaling pathways by which Klotho exerts its protective effects on neurons and oligodendrocytes.  We are also studying Klotho's transcriptional regulation and have identified compounds to therapeutically exploit these protective effects. Another line of investigation in our lab is to understand the biology of the amyloid precursor protein (APP), the parent protein of the amyloid beta peptide (Abeta), which accumulates in the brains of Alzheimer's disease patients and causes irreversible neurodegeneration. Certain mutations in APP result in autosomal dominant, early onset familial Alzheimer's disease due to the increased production of Abeta. Since APP homodimerization is believed to be involved in Abeta formation in the brain we searched and identified molecules capable of intervening in this process to reduce the levels of toxic Abeta peptide in the brain.
ADC Role
Basic scientist collaborating with ADC scientists.
Awards/Memberships
Dr. Abraham is the recipient of The Neuroscience Education and Research Foundation Award for an Outstanding Promise as a Young Alzheimer Investigator (1990). Moreover she is the recipient of the highest awards from the Alzheimer's Association – The Zenith Award (1994) and the Temple Award (1999). She is a member of the Society for Neuroscience, American Society for Neurochemistry, American Association of Neuropathologists, New York Academy of Science, International Society for Amyloidosis, American Academy for the Advancement of Science, among others.
Recent Publications
Click here for full list of publications.
Abraham CR, Mullen PC, Tucker-Zhou T, Chen CD, Zeldich E. Klotho Is a Neuroprotective and Cognition-Enhancing Protein. Vitam Horm. 2016; 101:215-38. PMID: 27125744.

Zeldich E, Chen CD, Avila R, Medicetty S, Abraham CR. The Anti-Aging Protein Klotho Enhances Remyelination Following Cuprizone-Induced Demyelination. J Mol Neurosci. 2015 Oct; 57(2):185-96. PMID: 26067431.

Dubal DB, Zhu L, Sanchez PE, Worden K, Broestl L, Johnson E, Ho K, Yu GQ, Kim D, Betourne A, Kuro-O M, Masliah E, Abraham CR, Mucke L. Life extension factor klotho prevents mortality and enhances cognition in hAPP transgenic mice. J Neurosci. 2015 Feb 11; 35(6):2358-71. PMID: 25673831.

Chen CD, Tung TY, Liang J, Zeldich E, Tucker Zhou TB, Turk BE, Abraham CR. Identification of cleavage sites leading to the shed form of the anti-aging protein klotho. Biochemistry. 2014 Sep 2; 53(34):5579-87. PMID: 25110992.

Jun G, Asai H, Zeldich E, Drapeau E, Chen C, Chung J, Park JH, Kim S, Haroutunian V, Foroud T, Kuwano R, Haines JL, Pericak-Vance MA, Schellenberg GD, Lunetta KL, Kim JW, Buxbaum JD, Mayeux R, Ikezu T, Abraham CR, Farrer LA. PLXNA4 is associated with Alzheimer disease and modulates tau phosphorylation. Ann Neurol. 2014 Sep; 76(3):379-92. PMID: 25043464.

Zeldich E, Chen CD, Colvin TA, Bove-Fenderson EA, Liang J, Tucker Zhou TB, Harris DA, Abraham CR. The neuroprotective effect of Klotho is mediated via regulation of members of the redox system. J Biol Chem. 2014 Aug 29; 289(35):24700-15. PMID: 25037225.

Chen CD, Li H, Liang J, Hixson K, Zeldich E, Abraham CR. The anti-aging and tumor suppressor protein Klotho enhances differentiation of a human oligodendrocytic hybrid cell line. J Mol Neurosci. 2015 Jan; 55(1):76-90. PMID: 24907942.

Dubal DB, Yokoyama JS, Zhu L, Broestl L, Worden K, Wang D, Sturm VE, Kim D, Klein E, Yu GQ, Ho K, Eilertson KE, Yu L, Kuro-o M, De Jager PL, Coppola G, Small GW, Bennett DA, Kramer JH, Abraham CR, Miller BL, Mucke L. Life extension factor klotho enhances cognition. Cell Rep. 2014 May 22; 7(4):1065-76. PMID: 24813892.

Tucker Zhou TB, King GD, Chen C, Abraham CR. Biochemical and functional characterization of the klotho-VS polymorphism implicated in aging and disease risk. J Biol Chem. 2013 Dec 20; 288(51):36302-11. PMID: 24217253.

Mehi SJ, Maltare A, Abraham CR, King GD. MicroRNA-339 and microRNA-556 regulate Klotho expression in vitro. Age (Dordr). 2014 Feb; 36(1):141-9. PMID: 23818104.

So PP, Khodr CE, Chen CD, Abraham CR. Comparable dimerization found in wildtype and familial Alzheimer's disease amyloid precursor protein mutants. Am J Neurodegener Dis. 2013; 2(1):15-28. PMID: 23515184.

Chen CD, Sloane JA, Li H, Aytan N, Giannaris EL, Zeldich E, Hinman JD, Dedeoglu A, Rosene DL, Bansal R, Luebke JI, Kuro-o M, Abraham CR. The antiaging protein Klotho enhances oligodendrocyte maturation and myelination of the CNS. J Neurosci. 2013 Jan 30; 33(5):1927-39. PMID: 23365232.

McKee AC, Stern RA, Nowinski CJ, Stein TD, Alvarez VE, Daneshvar DH, Lee HS, Wojtowicz SM, Hall G, Baugh CM, Riley DO, Kubilus CA, Cormier KA, Jacobs MA, Martin BR, Abraham CR, Ikezu T, Reichard RR, Wolozin BL, Budson AE, Goldstein LE, Kowall NW, Cantu RC. The spectrum of disease in chronic traumatic encephalopathy. Brain. 2013 Jan; 136(Pt 1):43-64. PMID: 23208308.

Abraham CR, Chen C, Cuny GD, Glicksman MA, Zeldich E. Small-molecule Klotho enhancers as novel treatment of neurodegeneration. Future Med Chem. 2012 Sep; 4(13):1671-9. PMID: 22924505.

So PP, Zeldich E, Seyb KI, Huang MM, Concannon JB, King GD, Chen CD, Cuny GD, Glicksman MA, Abraham CR. Lowering of amyloid beta peptide production with a small molecule inhibitor of amyloid-ß precursor protein dimerization. Am J Neurodegener Dis. 2012; 1(1):75-87. PMID: 22822474.

King GD, Chen C, Huang MM, Zeldich E, Brazee PL, Schuman ER, Robin M, Cuny GD, Glicksman MA, Abraham CR. Identification of novel small molecules that elevate Klotho expression. Biochem J. 2012 Jan 1; 441(1):453-61. PMID: 21939436.

King GD, Rosene DL, Abraham CR. Promoter methylation and age-related downregulation of Klotho in rhesus monkey. Age (Dordr). 2012 Dec; 34(6):1405-19. PMID: 21922250.

So PP, Chen CD, Abraham CR. Detection of amyloid-ß protein precursor homo-interactions using beta-galactosidase enzyme fragment complementation. J Alzheimers Dis. 2011; 26(4):647-55. PMID: 21694460.

Abraham CR, Nalge MW. Handbook of Proteolytic Enzymes. Acylaminoacyl-peptidase. 2011.

Abraham CR. The Handbook of Alzheimer's Disease and Other Dementias; Edited by Andrew E. Budson, Neil W. Kowall. Amyloid beta peptide and the Amyloid cascade hypothesis. Blackwell Publishing Ltd. 2011.

Erlich PM, Lunetta KL, Cupples LA, Abraham CR, Green RC, Baldwin CT, Farrer LA. Serum paraoxonase activity is associated with variants in the PON gene cluster and risk of Alzheimer disease. Neurobiol Aging. 2012 May; 33(5):1015.e7-23. PMID: 20980077.

Oh SY, Chen CD, Abraham CR. Cell-type dependent modulation of Notch signaling by the amyloid precursor protein. J Neurochem. 2010 Apr; 113(1):262-74. PMID: 20089128.

Yamin R, Zhao C, O'Connor PB, McKee AC, Abraham CR. Acyl peptide hydrolase degrades monomeric and oligomeric amyloid-beta peptide. Mol Neurodegener. 2009; 4:33. PMID: 19627603.

Zerbinatti CV, Cordy JM, Chen CD, Guillily M, Suon S, Ray WJ, Seabrook GR, Abraham CR, Wolozin B. Oxysterol-binding protein-1 (OSBP1) modulates processing and trafficking of the amyloid precursor protein. Mol Neurodegener. 2008; 3:5. PMID: 18348724.

Hinman JD, Chen CD, Oh SY, Hollander W, Abraham CR. Age-dependent accumulation of ubiquitinated 2′,3′-cyclic nucleotide 3′-phosphodiesterase in myelin lipid rafts. Glia. 2008 Jan 1; 56(1):118-33. PMID: 17963267.