Literature, Language, & the Arts
Congratulations to the 2016 Children's Africana Book Award (CABA) Winners!
The awards are granted to the best and most accurately representative children's materials about Africa. We highly recommend using these books, as well as the recipients from previous years, in the K-12 classroom!
BEST BOOKS: YOUNG READERS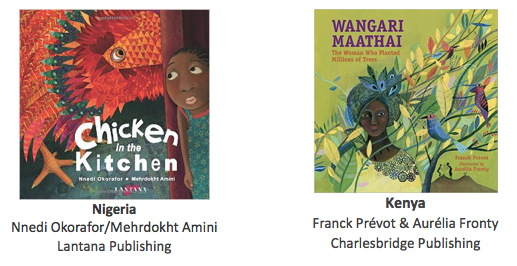 BEST BOOKS: OLDER READERS
For the complete list of past CABA winners for younger readers, visit here.
For the complete list of past CABA winners for older readers, visit here.
Here are three highly recommended books for teaching African literature:
African  Novels in the Classroom, Margaret Jean Hay

Editor Margaret Jean Hay presents 24 of Africa's best known and enjoyed novels and features 24 college professors "from different disciplines discuss how they use specific African novels in the classroom–why they choose a certain novel, what corollary readings they assign, what background information they present in lecture, what major themes emerge in discussion, and what written assignments then explore the students' engagement with that particular novel" (quotation from the book's editor, Margaret Jean Hay).
This book best serves as support for teaching the social life of the novels.
For teaching with a focus on the literary elements, these two resources work well:
A Handbook for Teaching African Literature, Elizabeth Gunner
The African Novel in English: An Introduction, Keith Booker
For more information on African literature, please visit the following links:



Language
Africa is a continent rich with language diversity. There are over 3,000 languages spoken in Africa, many of which have roots to the major language families:
Afro-Asianic includes Arabic ancestrally native to East and North Africa, and the Arabian Peninsula
Nilo-Saharan
Nilo-Congo (A) comprised of Niger-Congo's non-Bantu branches
Niger-Congo (B) mainly Bantu, Niger-Congo's largest branch
Khoi-San
Austronesian is intrusive from Southeast Asia
Indo-European (not shown on map) Afrikaans, native to the Southern tip of Africa, intrusive from Europe
Experience the character of different African languages through these translated proverbs:
Arts
Just as in any continent, art work can be used to interpret the diverse culture and history of the Africa. The brass plaque depicted on the right, was part of a series of works created to adorn the exterior of the royal palace in Benin City during the sixteenth and seventeenth centuries. The plaques were used to tell complex narratives of Benin society. The creators wanted to communicate the hierarchy and status within their society, as seen by the physical features of each figure. The largest figure, in the forefront, is the one with the greatest authority is depicted as the warrior chief, while the soldiers by his side are of lesser rank.
For more examples of African art and for more ways to incorporate African art into your lessons, see the following: