Teaching Africa Teacher Certificate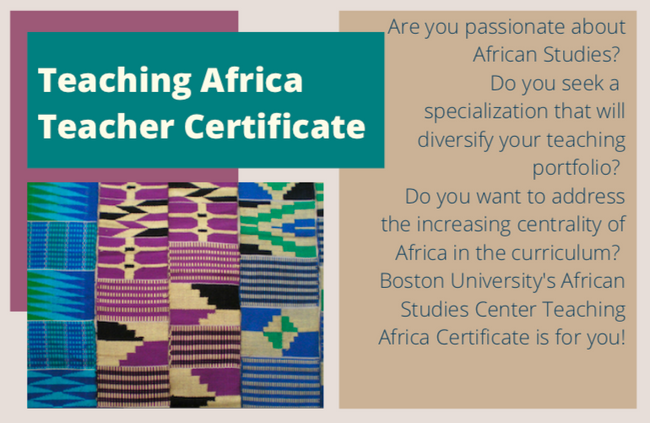 Now accepting applications!
Applications received before May 15, 2020 will join the Summer/Fall 2020 cohort.
Teaching Africa Teacher Certificate Flyer
Background on the Program
Since its inception in 1953, the African Studies Center (ASC) at Boston University has been a leader in developing the field of African Studies in the United States. As a Title VI National Resource Center, the ASC has fostered a longstanding and robust Outreach Program whose staff has a simple, yet challenging, overarching priority—Outreach aims to promote the teaching of Africa in U.S. schools. Throughout much of the U.S., the curricula in practice largely mirrors an antiquated emphasis on a narrow understanding of what constitutes an American literature, an American history, and the American arts. Even in world history and global literature classrooms, Africa—the second largest continent and the birthplace of mankind—often constitutes little more than a quick unit, if mentioned at all. This de-emphasis is born out of a lack of teacher training and knowledge on Africa in all range of subjects, which unintentionally marginalizes students who do not or cannot relate to lack of diversity and voice in their education. The focus on African and African-related studies in the classroom forms a crucial component of identity-building and deconstructing stereotypes in history and the world beyond.
Overview
The Teaching Africa Teacher Certificate Program supports pre-service and in-service K-12 teachers who are interested in engaging with Africa in its global context. This interdisciplinary program prepares teachers to become education leaders and innovators in the teaching of Africa with a globally-minded program that is committed to flexibility in fulfilling degree completion requirements and promoting culturally relevant Africa instruction.
Why You Should Apply
You are passionate about global education and African Studies. You seek a specialization that will enhance your teaching career and galvanize your teaching portfolio. You want to address the increasing centrality of Africa in the curriculum and innovate in your practice. The Boston University African Studies Center respects your work and commitment. Whether you are a seasoned educator or are new to the field of teaching, we want to support you to gain access to the tools and curriculum you need. The Teaching Africa Teacher certifies U.S. based pre-service and in-service teachers and administrators, as well as professionals,who want to:
Lead and innovate in the area of African Studies in their subjects and grade levels
Dialogue and collaborate with educators who are working on similar content across contexts
Design exciting curriculum that engages with the history, languages, cultures, and identities of Africa following content standards
Engage their students experientially with Africa-related content through culturally responsive teaching
Program Requirements
Students accepted into the program will be required to complete a minimum of six credits of coursework and 10 contact hours of professional development in order to receive the certificate. All courses taken for credit in the program must have a primary focus on Africa and at least one course must have a predominantly historical perspective on a topic in African studies. All courses must be submitted to the Program Administrator for approval of certificate credit. Any course that has not been approved by the Program Administrator may be petitioned to the Program Board for approval.
1. Content Knowledge – 6 credits of graduate-level course work, transferrable from any institution. Particpants in the program are encouraged to explore the myriad of topics offered concerning African Studies in order to improve their own content awareness. These courses may be taken up to three years prior to program start at any accredited institution. Participants are required to submit official syllabi, transcripts, and assignments for the course in order to have the course approved for certificate credit.
2. Teacher Workshops – 10 Contact Hours of Workshops  sponsored by the BU African Studies Center or other accredited Professional Development Provider. These teacher workshops take place at least once during each semester or during the summer and vary in length and topic. For more information on workshop offerings at Boston University, please visit here.
Component
Type
Credit Requirements
Content
Graduate credits
6 graduate course credits and transferrable from any accredited higher education institution into the program for the last 3 years.
Workshops or Study Abroad
10 contact hours of workshops taken face-to-face at an approved Professional development provider
Preparation
Curriculum Design
1 curriculum unit focused on Africa, addressing content standards, adapted to a specific K-12 setting.
Practice
Teaching experience in school or educational setting

Documentation of significant experience teaching Africa-based curriculum to K-12 students as evidenced by curriculum, teacher reflections, and student work.

Capstone
Presentation
A presentation of curriculum at Online conference (open to the larger teaching community)
Please note, courses and workshops taken in the past three years are eligible for credit in the Teaching Africa Teacher Certificate Program.
How to Apply
Eligibility
To apply for this program:
Applicants must be training to be a teacher at a higher education institution, or current K-12 teacher in United States private or public schools
Applicants must have a Bachelors' degree from an accredited institution with a minimum 2.5 Grade Point Average (GPA) or be enrolled in an undergraduate educational licensure program.
As applicable, international students interested in enrolling must demonstrate the ability to read and write with proficiency in English.

TOEFL iBT: Total minimum score of 84, with section minimum scores of 21 in reading, 18 in listening, 23 in speaking, and 22 in writing
IELTS: Total minimum score of 6.5, with a minimum score of 6.5 in each section.
Application Components – All applicants must submit a complete set of application documents in order to be considered: application form (TAT Certification Application Form 2019_2), official transcripts from the highest degree conferred; a personal statement addressing your background experience, interest and commitment to teaching about Africa (1ooo word limit); resume or CV; English proficiency exam results if necessary.
All application materials (excluding official transcripts) should be submitted to the Outreach Manager, Dr. Elsa Wiehe, africa@bu.edu
Transcripts should be sent directly to the following address:
Outreach Program
Boston University African Studies Center
232 Bay State Road
Boston, MA 02215
Deadlines
Applications are accepted on a rolling basis. However, candidates are encouraged to apply in the following deadlines:
December 15 for Spring admission
June 15 for Summer of Fall admission
Tuition Fees
Boston University's African Studies Center does not charge tuition for this program as part of its national mandate to serve K-12 teachers in building their practice of African Studies. The cost of the program is the cost of classes and workshops that participants attend in their respective contexts. There is no cost to transfer any class or workshop to the program.
Matriculation Status 
Enrollment in this program is open to teachers and pre-service teachers, but does not offer participants status as matriculated students at Boston University. Participants have access to the following resources: the Teaching Africa Library books and materials at 232 Bay State Road, free access to the Outreach Program's workshops and events, and in-house use of the African Studies Library resources.
Frequently Asked Questions (FAQ)
For more information
Contact africa@bu.edu