Learning About the Lives of Children in Africa

Steve Griffin
Brookline Public Schools
Project Title: The Lives of African Children: Mini-Units Based on Children's Literature
Project Description:
Currently, the second grade social studies curriculum in Brookline consists of a few different integrated units based on communities from around the world. Mulit-disciplinary activities, focusing on developing an understanding of the cultural aspects of these communities, take place over a period of many weeks or even months for a particular unit. At the end of the year, children have developed a reasonably deep understanding of these particular cultures. However, they have been exposed to only a few cultures, and those in limited areas of the world.
I would like to broaden the range of cultures that the children in my class become familiar with by supplementing these more extensive units with several smaller, or mini-units. These mini-units would be organized around a particular picture book (specific books to be discussed later) in which the main character in the book is a child living in an identifiable culture somewhere in the world. A healthy number of these mini-units would be based on books depicting children living in contemporary Africa, which will be the focus of this particular project. Students will read (or have read to them) the book and will use the information contained in it to make deductions about this child's life. Students will make connections between the life of the child in the book with their own lives and the lives of children introduced in other books.
Additionally, presentation and discussion of each book will be followed up with additional activities related to the book or the country described in the book.
These activities might include
mapping and geography
math activities (games, word problems and charts comparing rain falls, temperatures, discussion of money systems, etc.)
science activities (discussing of why camels are well adapted to the desert, exploration of habitats, etc.)
cooking activities
visual arts, music, and dance
writing activities
Also included in this document is background information concerning the relevant aspects of the history, geography, and culture of the country in which each of the stories takes place. This information has been taken from the Global Studies: Africa yearbook and appears at the end of this document.
Choosing the Books
An assortment of existing picture books identified as taking place in Africa were reviewed. Books were assessed as appropriate for this particular curriculum unit if they met the following conditions…
Children's lives were presented within a clearly definable social context and the children were engaged in realistic activities.
Daily life in these cultures was depicted accurately, and the activities depicted in the books would allow for students to be able to draw reasonable conclusions about some aspects of the child's life.
The books were thought to be interesting to first and second graders in terms of the story line, illustrations, drawings, use of language, etc.
The story lines emphasize similarities between the lives of children in Brookline and in the particular African community as well as allow for the students to recognize and discuss differences.
The final list of books, which you will find on the next couple of pages, also attempts to represent the great diversity in culture, geography, socio-economics, religious beliefs, etc. that exists on the continent of Africa. As a result, stories were chosen that represented life in Northern Africa, West Africa, East Africa, and South Africa. Also, children from middle class, working class, and low income families are included. Some stories depict children living in rural areas, and other stories take place in bustling cities.
Some Words of Caution
The intention of this project is to present these books focusing on Africa within a larger context of books about children from around the world. It is not my intention to conduct a separate unit on Africa, and then use these books to teach "Africa". This approach would only reinforce the tendency to view Africa as a unified whole, as if it were one country. Instead, the focus of these book studies should be to look closely at a specific country, just as a book about Japan or Panama would focus on the country, with the identification of the continent as an important but secondary fact to be discussed. It is suggested that if a more extensive, continuous and coherent use of picture books around one area with an African focus is preferred, then the books should all take place in the same country rather than in several different African countries. South Africa would be a good choice based on the variety and quality of books taking place there. A suggested list of picture books taking place in South Africa follows after the listing of the more general book list.
An Annotated Bibliography: A Short List of Children's Literature Situated in Africa
Amoko and Efua Bear, by Sonia Appiah, New York: MacMillan, 1988.
Amoko lives in Ghanawith her mother, father, and stuffed bear, Efua, who travels with her everywhere. Excited by the visit of an aunt, Amoko inadvertently leaves her bear outside where it is lost. A very sad Amoko is relieved when her father eventually finds the bear. This story depicts a child living in a middle class family.
Armien's Fishing Trip, by Catherine Stock, New York: William Morrow and Company, 1990.
Armien visits his aunt and uncle who live in the fishing village of Kalk Bay in South Africa. Armien is shown happily playing with children of mixed cultural background. Armien stows away on his uncle's fishing boat and becomes a hero when he saves a man from drowning.
Charlie's House, by Reviva Schermbrucker and Niki Daly, New York: Viking Books, 1991.
Charlie, a young South African, watches workmen build a house for his family. His mother is not pleased with the outcome. Charlie then uses recycled materials to build a miniature model of his own dream house. This book shows a boy from a family with meager resources living a pleasant life. The use of fantasy to add spice to his life is something all children will recognize and appreciate.
The Day of Ahmed's Secret, by Florence Parry Heide and Judith Heide Gilliland, New York: Scholastic Books, 1990.
Ahmed is a young boy who delivers cooking fuel in busy Cairo, Egypt. We travel with him on his delivery route and then return home with him where he shares his secret with his family, that he has learned to write his name. This book presents Cairo, from a child's point of view, as a bustling and fascinating city.
Galimoto, by Karen Lynn Wiliams, New York: Lothrop, Lee, and Shepard Books, 1990.
Kondi, a seven year old boy living in Malawi, searches through his village collecting scrap materials. He uses these to make himself a wonderful galimoto, a toy vehicle made of wires, which is the envy of his friends.
Mcheshi Goes to the Market, by J. Kitsao, Jacaranda Designs, Nairobi: Kenya, 1991. (available through U.S. office at 2701 E. Warren Ave., Denver, CO 80210.)
A little girl in Kenya goes to the market with her mother. The shopping trip has many similarities to a trip that one of our students would take to a local shopping mall, yet there are wonderful differences as well. The text is presented in Kiswahili as well as English.
Not So Fast Songololo, by Niki Daly, New York: Atheneum, 1986.
Malusi accompanies his grandmother on a shopping trip to a busy city in South Africa, where his grandmother buys him a new pair of bright red sneakers.
Osa's Pride, by Ann Grifalconi, Boston, Little, Brown, 1990.
A little girl who lives in a village in Camerooncreates stories about her deceased father, and these stories become so important to her that she stops listening to her friend's stories. Her grandmother creates a story on cloth about a vain woman that teaches Osa a lesson.
Rehema's Journey, by Barbara A. Margolis, New York, Scholastic, 1990.
Rehema, a nine year old girl who lives in the mountains of Tanzania, takes a special trip with her father to a game park to see animals. This book uses real photographs to tell the story of Rehema.
Picture Books Taking Place in South Africa
Armien's Fishing Trip, by Catherine Stock, New York: William Morrow and Company, 1990.
At the Crossroads, by Rachel Isadora, New York Greenwillow Books, 1991.
Charlie's House, by Reviva Schermbrucker and Niki Daley, New York: Viking Books, 1991.
The Day of the Rainbow, by Ruth Craft, New York: Puffin Books, 1988.
The Jafta Series, by Hugh Lewin,  Minneapolis: MN, Carolrhoda Books
    Jafta
    Jafta and the Wedding
    Jafta's Mother
    Jafta's Father
    Jafta, the Homecoming
Not So Fast, Songololo, by Niki Daley, New York: Athaneum, 1986.
Ntombi's Song, by Jenny Seed, Boston: Beacon Press, 1987.
Over the Green Hills, by Rachel Isadora, New York: Greenwillow Books, 1992.
Helpful Resources for the Teacher
The resources listed below supply the teacher with more extensive information about particular books, or about the countries where these books are situated.
Afrophile: Recommended Titles on Africa, K–12
edited by Brenda Randolph
Contains a bibliography of recommended materials about Africa for all age levels.
Africa Access Review of K–12 Materials
edited by Brenda Randolph
Contains reviews of approximately 200 print and visual materials on Africa.
The two volumes listed above are available through:
Africa Access
2204 Quinton Road
Silver Spring, Maryland 20910
301/587-5686
Our Family, Our Friends, Our World, edited by Lyn Miller Lachman, Bowker Press, New Providence, NJ, 1991.
Contains background information and reviews of multicultural materials focusing on ethnic groups in the U.S. as well as cultures abroad, including reviews of materials on African cultures.
Global Studies: Africa
Dushkin Press, Sluice Dock, Guilford, CT 06437
Updated yearly, this volume contains 2- to 3-page summaries of background information on each African nation as well as articles on more general aspects of African history and development.
Suggested Guideline for Using a Book in a First/Second Grade Classroom
Some background considerations…
First, it is suggested that the teacher discuss what an anthropologist is and does in prior lessons. Studying the lives of children in North America, and possibly their own lives, first, will allow the children to approach the study of the lives of children from another culture with a more objective approach. The study of lives of children in other cultures should focus on how cultures meet basic human needs, and how cultures are similar and different in this regard. Studying another culture should never result in "exoticizing" that culture, but should lead to an increased understanding of other cultures as well as an increased understanding of our own culture.
Also, some picture books will require that your students have some particular background knowledge so that the actions in the story make sense. For instance, when reading Jafta, the Homecoming, a basic understanding of apartheid and recent and past history of South Africa is necessary to understand all the references made in the book. In cases like these, the teacher will need to first read a book and determine if students have necessary knowledge to understand the book. Students will need little preparation for some books, and more extensive background knowledge for others.
A suggested approach…
The following is one set of possible activities to employ when using a picture book about a particular child in another culture.
Arrange seats in rows with a center aisle, as on an airplane, explaining to the students that we will take a flight to the particular country. On a large world map, have a child locate where he or she lives, and our destination. The child is then asked to list the countries and major bodies of water that the plane will pass over during the flight. (I like to assign a three digit number to each chair, then hand each child a ticket which lists our destination and lists their seat number, which the child then needs to locate on the plane. This reinforces the math objective of recognizing and reading three digit numbers.)
During the flight we will have in flight entertainment this could be a slide show of slides taken of that country, or perhaps a tape of music from that country, etc.
We usually have an in flight snack of a food item that is grown or eaten in the country that we are visiting.
Eventually we arrive. We often will estimate how far we think we have gone, or how long it would really take us, and then compare our estimates to the actual numbers. Our "flight" will vary in length based on how much time is spent on in light activities.
Once we are "there," the book is read to the children. The teacher facilitates relevant discussions about the activities and the themes expressed in the book during the reading. At the end, the children are then engaged in a discussion in which the life of the child is analyzed according to certain categories important to anthropologists- these include food, housing, clothing, education, family life, geography, weather, entertainment, religion, occupations, transportation, etc. Children are then asked to discuss how the life of the child in the book was similar to their lives, and in what ways is it different. Then a discussion ensues about why their might be differences (because of weather, geography, human resources, cultural values, etc.).
Once the discussion is over, the children are each given a packet and are encouraged to work in groups to complete the packet. (An example of a packet used for Not So Fast, Songololois included in the following pages.) If there are enough copies of the book available, each group has a copy of the book and they are encouraged to go back to the book to look for data. In the packet they are asked to locate the country of the child on a world and a continent map. There is an anthropologists data page, in which they make notes related to the anthropological categories discussed earlier. They then complete a Venn diagram in which they are asked to list ways their life is similar to the child in the book, and how their life is different.
A follow-up activity will then follow. This might be a further study of fish, to be used after reading Armien's Fishing Trip, or making a galimoto out of wire and found materials after reading Galimoto, or a writing and drawing activity about the physical and psychological effects when trying out a brand new item of clothing or new piece of sporting or art equipment, after reading Not So Fast, Songololo.
These packages are collected throughout the year and saved in a Passport to the World folder. Each child was initially given a mock up of a personal passport with photograph and identifying information, which is taped to the front of the folder. (A folded passport booklet could be made, with the destination of each trip and date logged into the book similar to a real passport.)
An example of a packet made for the book Not So Fast, Songololo is included in the following pages. In the next few years I will be refining and polishing this and other packets as well as creating new ones which will use books focusing on children living throughout the world.
---
Map of Africa
---
Not So Fast, Songololo

By Niki Daley
Shepherd's grandmother bought him some new "tackies," and now he can walk much faster! Draw a picture of an object that you got that was brand new and it helped you do something faster or more easily or better.
Now draw a picture of you using this new object, piece of clothing,…whatever it was. Show us how your performance improved.
Explain why this object helped you do something better…was it because you were proud, or did it really help you improve your performance?
___________________________________________________________________________________________________________________________________________________________________________________________________________________________________________________________________________________________________
Mark an X where Songololo lives.
Draw an O where you live
What continent is this? _________________________________________
Mark an X where Songololo lives.
What is the name of his country? ________________________________________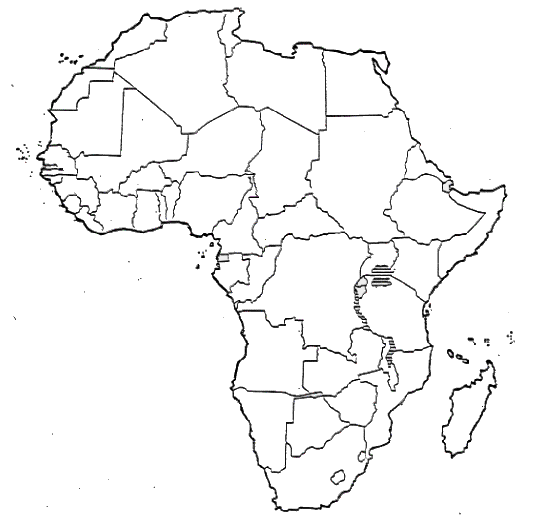 Book Title: Not So Fast, Songololo__________________
Author: Niki Daly____________________
Main Character: _____________________________________________
Character's address: ________________________________________
| | | |
| --- | --- | --- |
| weather/geography | housing | food |
| clothes | transportation | entertainment |
| celebrations | jobs | schooling |
---
---
To Select Good Books:
see Selecting Books on Africa and visit the website www.africaaccessreview.org