African Studies Center's Newsletter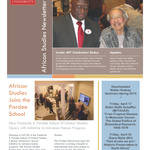 A vibrant African Studies Center newsletter requires participation by those who have made and continue to make the center what it is today–a welcoming place of thriving academic exchange. Please enjoy the newsletter but also consider sharing news of your work and life with us and your fellow alumni. The newsletter will be published biannually.
The newsletter is available in two forms—in print and here as a PDF file. If you would like to receive the print version, or wish to submit some news, please use the Alumni Contact form here. Thanks for your participation and enjoy reading about the work of the center, its alumni and current students.
Read the latest newsletter like a newspaper on FlipSnack here.