Cosmas Ochieng and Mahesh Karra Join African Studies Faculty
Ochieng's research and teaching interests focus on the theory, policy and practice of development; global climate change and environmental policy; science, technology and innovation policy; and the political economy of African development. Ochieng served as Executive Director of the African Centre for Technology Studies (ACTS) based in Nairobi, Kenya. He has also served as the Technical
Coordinator for the Business, Economics and Biodiversity Program of the International Union for Conservation of Nature (IUCN), Eastern and Southern Africa Regional Office in Pretoria; Climate Change Expert at the UNEP Risoe Centre (Technical University of Denmark); Lecturer in Sustainable Agriculture, Land and Water at Lancaster University in the UK; and Research Fellow, with the International Food Policy Research Institute (IFPRI).
"The Pardee School seeks 'a future with peace that lasts, development that works and knowledge that transforms'," Ochieng said. "This is a bold and a timely challenge which requires a combination of intellectual rigor, world class research and teaching, and global engagement and outreach. The Pardee School has the faculty, students, networks and enabling environment to lead this charge. I am delighted to be joining the team in pursuit of such a noble and challenging intellectual ambition and professional enterprise.
Karra's academic and research interests are broadly in development economics, health economics, quantitative methods, and applied demography. His research utilizes experimental and non-experimental methods to investigate the relationships between population, health, and economic development in low- and middle-income countries. He has conducted field work in Sub-Saharan Africa, South Asia, and Latin America, and his current research uses randomized controlled trials to evaluate the health and economic effects of improving access to family planning and maternal and child health services in Malawi, India, Nepal, Sri Lanka and Tanzania. He has also worked for the Population Reference Bureau and the Futures Group International and served as a consultant to the World Bank, the World Health Organization, and the Population Council.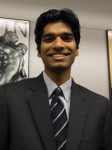 "My research interests are broadly in international health and development economics, and my work focuses on investigating the relationships between population, health, and economic development in low- and middle-income countries. I am also interested in applied mathematics and statistics for policy analysis and impact evaluation," Karra said. "I am particularly excited to be a part of a community that emphasizes multidisciplinary and interdisciplinary approaches to seeing the world. I am really looking forward to learning from and engaging with students and faculty who actively embrace this view."