Faculty in the News
January 2015
Prof. Linda Heywood recently presented her paper on Soft Power Cuba and Angola at the American History Association annual conference in New York which took place Jan 3rd – 5th, 2015. The
paper was titled "The Cultural Dimensions of Cuba's Angolan Adventure."
July 2014
In July 2014 Professor Heywood and Professor Thornton traveled to Angola at the invitation of the Ministry of Culture of Angola, to assist in assembling a case for advancing Mbanza Kongo, an ancient city in northern Angola, to World Heritage Site status.  Their visit coincided with archaeological work that has been ongoing since 2013 in the city, and their task was to match historical records of the city with what the archaeologists were finding.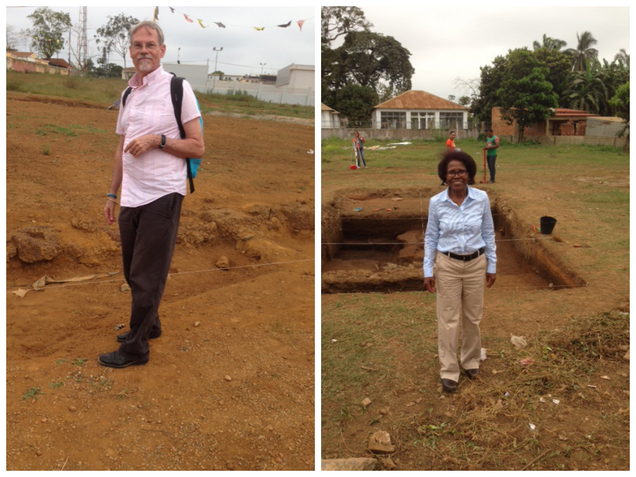 Mbanza Kongo was founded sometime before 1483 when Portuguese visitors first arrived in the Kingdom of Kongo and part of the work of the archaeological team was to determine when the city was founded.  Beyond that, the Kingdom of Kongo was notable for its rapid conversion to Christianity, and the growth and development of the city to one of the largest cities in sub-Saharan African, boasting close to 100,000 people in 1650.  Their task, and that of the archaeologists was to locate and identify its many churches, royal palace and other sites of interest.  One of the important findings was to establish the authenticity of an engraving of the city published by the Dutch geographer Olifert Dapper in 1668, based on geographical and architectural features shown in the engraving.
December 2012
In May 2012 Professor Linda Heywood traveled to Johannesburg for the APC African Presidential Roundtable with Ambassador Charles R. Stith. The conference theme was "21st Century Energy Agenda for Africa". Issues such as how Africa is playing an increasingly important role as an exporter of energy resources and a producer of strategic materials were discussed.
Some notable members of attendance were the Director of APC Ambassador Charles Stith, His Excellency Nicéphore Dieudonné Soglo (Former President of the Republic of Benin), His Excellency Amani Abeid Karume (Former President of Zanzibar), His Excellency Ali Hassan Mwinyi (Former President of the United Republic of Tanzania, His Excellency Thabo Mbkei (Former President of the Republic of South Africa), His Excellency Olusegun Obasanjo (Former President of the Federal Republic of Nigeria), His Excellency Pedro Pires (Former President of the Republic of Cape Verde), His Excellency Benjamin Mkapa (Former President of the United Republic of Tanzania), His Excellency Rupian Bwezani Banda (Fomer President of the Republic of Zambia).
October 2012
Professors Linda Heywood and John Thornton share their expertise on the role the first Africans brought to the North American Continent played in shaping America. To listen to the Interview, Click here.
August 2012
Obama Slave-Ancestry Report Misses Mark-Two BU scholars dispute assertions that a 17th-century forebear was one of the first documented slaves.
Professors Linda Heywood and John Thornton published an article on The Root disputing perceived inaccuracies published in a Washington Post article on President Obama's maternal genealogy.
March 2012
Professor John Thornton's newly published book, A Cultural History of the Atlantic World, 1250–1820 is now available at Cambridge University Press. A Cultural History of the Atlantic World, 1250–1820 explores the idea that strong linkages exist in the histories of Africa, Europe, and North and South America. John K. Thornton provides a comprehensive overview of the history of the Atlantic Basin before 1830 by describing political, social, and cultural interactions between the continents' inhabitants. He traces the backgrounds of the populations on these three continental landmasses brought into contact by European navigation. Thornton then examines the political and social implications of the encounters, tracing the origins of a variety of Atlantic societies and showing how new ways of eating, drinking, speaking, and worshipping developed in the newly created Atlantic World. This book uses close readings of original sources to produce new interpretations of its subject.
December 2011
Professor Ruha Benjamin weighs in on the Occupy Movement's origins and future as panelist at a BU teach in on Wednesday Nov.30th 2011. To read the article, click here.
Professor Ruha Benjamin has been invited to speak at an International Conference on Contemporary Constructions of Race/Whiteness in a Comparative Perspective on Dec. 19th,2011 at the University of Amsterdam. To learn more about this conference, click here.
November 2011
Professors Linda Heywood and John Thornton attended this year's  African Studies Association Conference  ( the largest gathering of Africanist scholars and professionals) in Washington D.C.  from Nov 17-19th.  A thank you letter for their participation can be viewed here. click here.
Ruha Benjamin addressed over 450 students about BU's history of human rights activism as part of the "Education Under Fire" film screening and panel discussion with human rights activist and actor Rainn Wilson, Amnesty International's Northeast Regional Director, Josh Rubenstein, film director Jeff Kaufman, and adjunct professor of social work, Mojdeh Rohani. Prof. Benjamin, who helped organize and moderate the event, tied BU's recognition of Iran's grassroots university, the Bahá'í Institute of Higher Education (BIHE), to a longer history of BU supporting subordinated social groups' right to education. Read more: click here.
Professor Ruha Benjamin will speak at a  joint Symposium featuring BU and Warwick University entitled "Postcolonialism, Cosmopolitanism, and Alterity" on Nov 16th 2011 2-6 PM at the College of Arts & Sciences Bldg Rm. 222. For more information on this event, click here.
October 2011
BU Professors Linda Heywood and John Thornton were interviewed recently by Fox News about new research that identifies African American ancestry as stemming from 46 ethnic groups originating from three major regions in Africa. To see the interview, click here.
August 2011
Dr. John Thornton and Dr. Linda Heywood recently published "A Forgotten African Catholic Kingdom: A year before Columbus discovered America, the king of Kongo led his people to Christianity," on The Root.  To read the article, click here.
July 2011
Linda Heywood and John Thornton on St. James, religion, and the Kongo.
Dr. Linda Heywood and Dr. John Thornton appear on Australian Broadcasting Company Radio to discuss St. James the Greater and the history of religion in the Kongo.  Listen to the segment here.

Dr. Linda Heywood in front of a 
cafe in Angola named for Njinga
Interview with Linda Heywood on African Queen Njinga
BU Professor Linda Heywood was interviewed by TheWorld.org on her book about African Queen Njinga.
Queen Nzinga (also spelled Njinga) once ruled what is now the African nation of Angola. The seat of Queen Nzinga's power was Angola's largest city, where there's still a statue of the 17th century Queen, in Kinaxixi Square.
"Njinga, she appears to be very tall, her head is lifted up so she's looking out. She has bangles on her hand, also she has a battle axe. She was known for her military prowess. Noone could use the battle axe like Njinga," says Linda Heywood who teaches African American studies at Boston University. More on Queen Njinga…
Email response to interview:
I heard the piece you did this afternoon on The World about Nzinga, and I found her story, and what you had to say about her, fascinating.  In addition to writing historical fiction, I also write comic books — including one about a fictional African hero, Black Panther — and I'm convinced (admittedly based on very little information) that Nzinga's story would make great material for an original graphic novel.  I'm off to do research.  Many thanks for the inspiration.
Best,
David Liss
______________________________________________________
Linda Heywood comments on Walking Tours of Civil War Boston
Dr. Linda Heywood comments on the recent publication of Walking Tours of Civil War Boston in the Boston Globe.  (Click here for the full article.)
April 2011
Postracialism at BU: Ruha Benjamin from On That Point on Vimeo.
Professor Ruha Benjamin discusses race in America and on college campuses after President Obama's election in 2008.
On That Point is BUTV10's award-winning current events discussion show, bringing questions, concerns, and thoughts about today's most pressing issues to the people shaping them by asking expert guests the things students want to know.
Winter-Spring 2011

Excerpt from Bostonia - Boston University's Alumni Magazine:
"Linda Heywood tells a story of how her elderly grandmother in Grenada, who raised the year-old baby after her mother died, would often repeat an inscrutable word that sounded like "boh-wah." It wasn't until many decades later, at a London archive dense with forgotten records, that Heywood held in her hands a faded document attesting to her Barbadian grandfather's service in Her Majesty's Navy in the Boer War. It turned out that her grandmother's half-delirious chant resulted from her exhausting, but ultimately successful, bid to get the colonial government of Barbados to pay her the benefits due her husband, Joseph A. Maxwell, who died six months after his return from the front."