"Slavery and Africa in Brazilian Public and Popular Memory" by Ana Lucia Araújo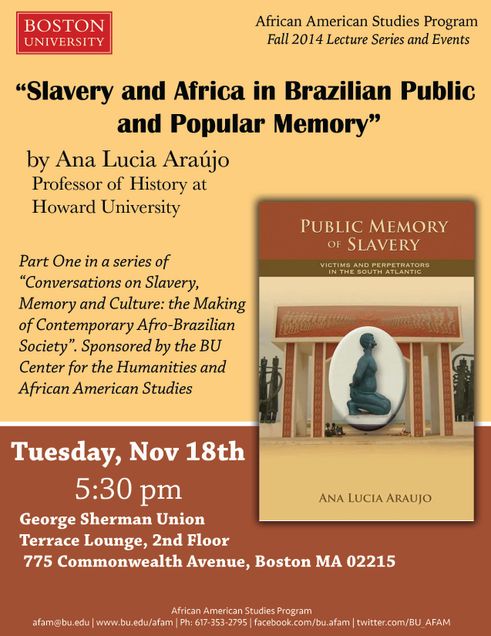 Join us on Nov 18th, Tuesday at 5.30pm for an informative talk by Ana Lucia Araùjo with respondent, Jeffrey W. Rubin on 'Slavery & Africa in Brazilian Public and Popular Memory'. This is Part One in a series of "Conversations on Slavery, Memory and Culture: the Making of Contemporary Afro-Brazilian Society" sponsored by the BU Center for the Humanities and African American Studies.
Ana Lucia Araújo
Professor of History at Howard University
 Ana Lucia Araújo is a historian and Professor in the Department of History at Howard University, Washington DC. Her work explores the history and the memory of slavery in the Atlantic world. She is the author of the books Shadows of the Slave Past: Memory, Heritage and Slavery (2014) and Public Memory of Slavery: Victims and Perpetrators in the South Atlantic (2010), as well as Romantisme Tropical: L'aventure d'un peintre français au Brésil, whose versions in Portuguese and in English will be published next year respectively by the Press of the University of São Paulo and the University of New Mexico Press. She also edited Politics of Memory: Making Slavery Visible in the Public Space ​(2012), Paths of the Atlantic Slave Trade: Interactions, Identities and Images (2011), and Living History: Encountering the Memory of the Heirs of Slavery (2009). She is the editor of the book series Slavery: Past and Present, by Cambria Press.
For more info, check out http://www.analuciaaraujo.org/
Jeffrey W. Rubin
Associate Professor of History at Boston University
Jeffrey Rubin is the author of Decentering the Regime: Ethnicity, Radicalism, and Democracy in Juchitán, Mexico (Duke University Press, 1997) and numerous articles and book chapters on social movements and politics in Mexico and Brazil. His current research on democracy and grassroots innovation in Brazil examines the participatory budgeting project in the southern Brazilian city of Porto Alegre, the rural women's movement in the state of Rio Grande do Sul, the Afro Reggae Cultural Group in Rio de Janeiro, and the national Movement of Landless Rural Workers (MST).
Rubin has been a Visiting Fellow at the Center for U.S.-Mexican Studies at the University of California, San Diego, the Institute for Advanced Study in Princeton, the Center for the Critical Analysis of Contemporary Culture at Rutgers, and the Center for Latino, Caribbean, and Latin American Studies at the University of Massachusetts, Amherst. His research on Brazil has been funded by the MacArthur Foundation, the Fulbright Program, and the American Philosophical Society.
 NOTE: The event will be taking place at the George Sherman Union, Terrace Lounge, 2nd Floor 775 Commonwealth Avenue, Boston MA 02215
RSVP on Facebook and let us know if you will be attending or give us a shoutout on Twitter!