"WINNIE: The Epic Untold Love Story" event was a success!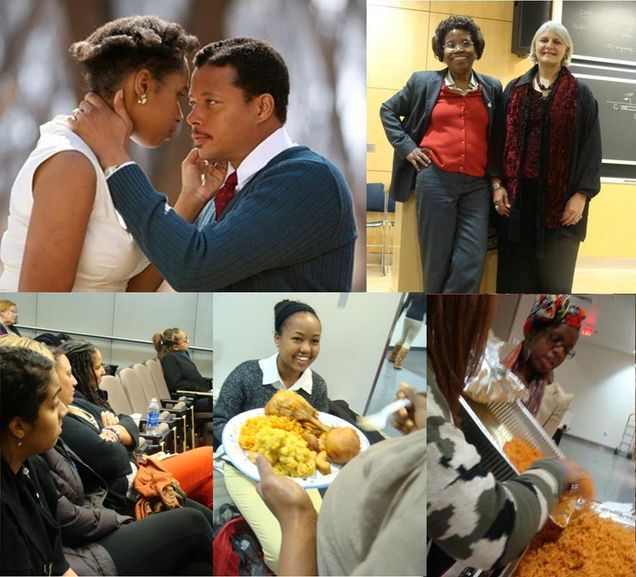 The WINNIE: The Epic Untold Love Story event was well-received and well-attended by friends and members of the Boston University community.
To start off, guests were greeted with an African cuisine feast (from Ariya Catering) sponsored by the Boston University African Students Organization(ASO). Then, the event began officially with Professor Linda Heywood, Professor of History and African-American Studies, and Portia Amofa, the events coordinator for the Boston University African Students Organization, welcoming the audience and introducing the program respectively. We were lucky to have Anne Marie Du Preez Bezrob, author of the  biography Winne Mandela: A Life, on which this film is based, as our guest speaker and she gave a short lecture before the screening of the film screening and discussed the film with the audience afterwards.
The talk covered Winnie Mandela's development as a prominent political leader, her role in the formation and establishment of a democratic South Africa in 1994 and thereafter. It explores her natural leadership qualities as a member of a prominent royal family; her political development; the question whether – and if so to what extent – her political role and leadership was predisposed by her relationship with Nelson Mandela; her overt political role and carefully orchestrated sacrifices for the sake of the new political dispensation; and the allegations against her of kidnapping and murder.
Many thanks to the BU Center for the Humanities, BU Dept. of History, BU African Studies Center, BU African Students Organization, and the BU Women's, Gender, & Sexuality Studies Program for their support, without which this event would not have been possible.
For the program, click here. Please visit us on Facebook for more pictures.