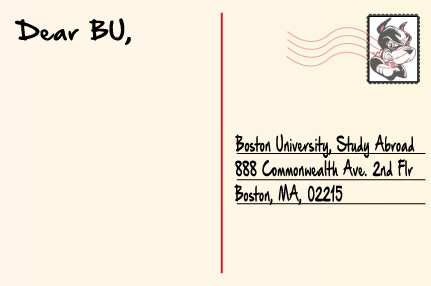 Write a Postcard
Did you study abroad with BU in 2013…what's your story?  We want to hear from you!
In celebration of the Study Abroad Spring Expo on Friday, February 7 from 12-3 p.m. at BU Central, we want you to share your experiences living, studying and interning abroad with BU! How do you do that? Write a postcard to your fellow peers about your personal experiences abroad (maybe it was something that changed your life or something in particular you fell in love with) and encourage them to do the same. These postcards will be displayed across campus the week of the Spring Expo to raise awareness of the myriad of global opportunities that study abroad allows our students to partake in.
A few rules and guidelines:
Do not use inappropriate or explicit language.
There is limited space on the postcard so do try to keep your stories to a shorter, Tweet-like format.
Deadline for final submission is: Friday, January 31.
Be creative!