Burgos: What Students Say
Sarah Basch, Spring 2008
When people ask me about my semester in Spain, I invariably tell them it was a life-changing experience. It was the most challenging and exhilarating six months of my life. Living in Burgos is unlike living in most any other Spanish city on an abroad program because there are so few English speakers. It is truly an immersion program. This makes for an intense and demanding time, but also for an enriching one. I would encourage American students who are looking for a realistic (not sugar-coated!) Spanish semester to consider this program—and study up on your Spanish beforehand!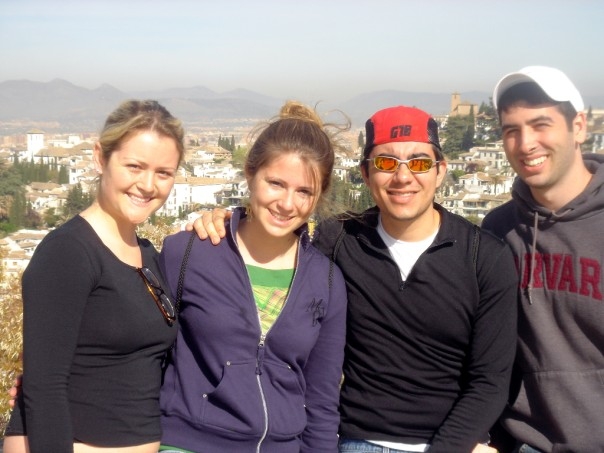 Sarah Northcutt, Spring 2006
Being in Burgos was much more than a study abroad program; it was living as a Spaniard for six months.  It was impossible not to become completely immersed in the language, the culture, and customs.  Not a day goes by that I don't think about my time there and how truly blessed I am to have been a part of that trailblazing semester.
Karen Mendoza, Spring 2007
I really enjoyed my semester abroad in Burgos. It was easy to become accustomed to the city and, by the end, I was truly saddened to leave. The advantage of studying abroad in this traditional city is the ability to really be immersed in the Spanish culture. My time in Burgos allowed me to improve my Spanish communication skills in speaking, writing, and reading through the classes at the Universidad and through daily interactions with my host family. Our field trips both in Burgos and outside the city greatly contributed to experiencing Spanish traditions and culture. The town is an amazing outlet to witnessing some typical traditions; it seemed as if there was always some big event going on in the Plaza Mayor and it was so fun and interesting to join the locals and celebrate together. My semester abroad in Burgos was one of the best things of my college experience.
Jim Perry, Spring 2007
My experience in Burgos was invaluable. The small city provided an excellent environment to improve my spoken Spanish; there are few other English speakers around and the locals are very friendly. What´s more, direct enrollment at the Universidad provided me with diverse educational experiences, from projects to lectures to debates, and all in complete immersion alongside students from Burgos and around the world. All that and the nightlife was unforgettable. I would recommend the Burgos program to any student looking for an unmatched opportunity to improve his/her language skills in an environment of complete immersion in authentic Spanish culture.
Clare Hansen, Spring 2006
My semester in Burgos was one of the most impactful of my university experience. I participated in multiple study abroad programs while at BU and found that this program´s strong focus on cultural and language immersion challenged me to learn to communicate in Spanish. I would recommend a semester in Burgos to any student whose goal is language acquisition and fluency. During my few months spent in Burgos, I not only gained life-long friends but invaluable and lasting language skills. I left the program feeling I had truly lived as a Spaniard.
John Ferrel, Spring 2005
The Burgos program literally gives you a Spanish college experience. You live in Spanish dorms, with Spanish students, attend classes at a Spanish university, and interact with Spanish professors. Burgos provides you with a true Spanish educational experience. But what I really value about my experience in Burgos is that its culture has not been watered down. The town is big enough to get lost in but small enough to make your own. You´ll find yourself meeting friends at your favorite tapas bar where the barman knows what his American friend´s favorite dish is, you´ll find a cortado ready for you as soon as you walk into your local cafe, and you´ll experience Spanish hospitality as your classmates and dorm friends invite you into their home. Madrid is a city to explore and visit, but Burgos is a place you can call home.
Emily Murphy, Spring 2005
I loved studying in Burgos. When I arrived in Spain, I could read and write Spanish fairly well but I couldn´t speak at all. However, I still had the chance to take classes at the University of Burgos with Spanish students, something that really helped me improve my Spanish. Another thing I really liked about the program was living in a dorm for Spanish students. In the dorm I got to know a lot of Spaniards without the complications that can come from living with a host family. I got to be very comfortable in Burgos. It´s a small enough city that I got to know it really well and I could see the same people every day in the street, something I don´t think is as common in Madrid or Seville. I will always have fond memories of Burgos and I´d recommend the program to anyone.
Maria Fellie
Studying abroad in Burgos was a turning point in my academic career and my life. I wanted to study Spanish in a place that would give me a feel for the true culture of Spain, so I chose Burgos, a smaller city in the north. That semester was the best learning experience I have ever had—not only did I gain fluency in the language, I learned about the culture, the history, the people–how and why Spain is how it is today. I was obligated to use Spanish daily phrases in order to survive, which might not necessarily be the case in a bigger, more metropolitan program. I liked having a small group of people I could rely on, but also having the freedom and necessity to meet and live with people from Spain. While there, I traveled as much as I could within the country. Art museums, cathedrals, castles, tapas bars, the Mediterranean, mountains and beaches—these images will give you just a glimpse of what I experienced. Traveling and studying abroad really is the ultimate learning experience, and I believe that the Burgos program gave me the opportunity to take full advantage of my time in Spain to learn the Spanish language and to experience a rich culture very different from my own.