Haifa, Israel
With a history that runs from biblical times through the Byzantines all the way to the British, Haifa these days is the cultural and technology hub of northern Israel and a picturesque hodgepodge of people and cultures.
Students study at the University of Haifa, considered one of the most pluralistic institutions of higher learning in the country. With a beautiful campus spread along the Carmel Mountain Ridge, the University gives students of all cultures and backgrounds a wonderful environment in which to pursue their academic goals. Particularly outstanding are the Hebrew and Arabic language instruction programs.
Housing is in fully equipped dormitory suites at the University. Excursions include trips to other sites and cities in Israel.
Programs in Haifa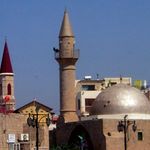 Students enjoy complete immersion into a Mediterranean city and integration within a major Israeli university.
Tags: English Speaking, Fall, Full Year Possible, General focus, Internship, Spring, Undergraduate
Focus: Art & Architecture, Communication, Conflict Resolution, Education, Hebrew Language, History, International Relations, Linguistics, Middle East Studies, Political Science, Pre-Law, Psychology, Religious Studies, Sociology