Burgos, Spain
Immersion. That's what you get on our Burgos program. It's a beautiful, tranquil, historic city that the "outside world" hasn't really discovered yet. Indeed, Spanish is pretty much the only language you'll hear, both in and out of the classroom.
The program offers a full range of courses through the Universidad de Burgos. Students say one of their favorite classes is Intercultural Education because it allows them to interact with Spaniards and see the world through their eyes. Visit the BU Burgos website.
BU students, with advanced approval of the Director, may enroll in a directed study for four academic credits.
Housing is in a modern, fully equipped student residence hall or, to make your immersion even richer, with a local Spanish family. Excursions to locations such as Madrid, Seville, Camino de Santiago, and Atapuerca complement the experience.
Programs in Burgos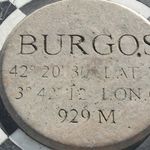 Students immerse themselves in a pure Spanish academic experience at the Universidad de Burgos.
Tags: General focus, Spanish Speaking, Spring, Undergraduate
Focus: Art & Architecture, Business & Management, Chemistry, Communication, Economics, Education, History, Literature, Physics, Political Science, Psychology, Spanish Language